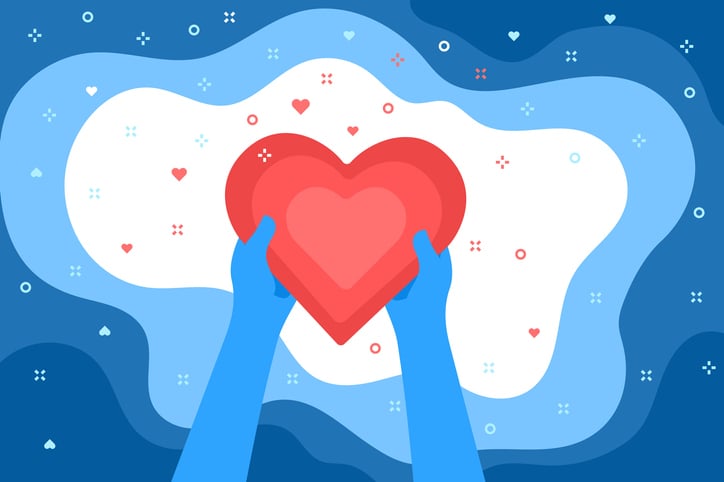 With the recent discovery of the Omicron variant, you may be looking for ways to navigate through this latest uncertainty. We are continuing to provide several resources to help you overcome the challenges you are facing. Here are 9 resources to support you during this time.
1. Unlock the Power of Virtual Volunteering
You may be looking for ideas on how to build out your virtual volunteering programs, on how to give back to your community virtually, and/or resources to share with your employees. Grab your virtual volunteering toolkits designed just for you — including helpful checklists, templates, and tips.
Businesses: Get the tools to enhance your existing virtual volunteering programs or learn how to start one.
Nonprofits: Drive the most impact through your virtual volunteering programs.
Volunteers: Find 23 ways to get engaged with your community—from the safety of your home.
2. Explore the COVID-19 Resource Hub

The COVID-19 Resource Hub provides you with research, volunteer opportunities, and articles related to COVID-19. Find the information you need to move forward confidently into 2022.
3. Utilize Data to Maximize Your Impact

We are seeing nonprofits adapt as they continue to serve their communities. Even with these shifts, many of the same challenges remain as we enter 2022. Gain a deeper understanding of nonprofits, corporate social responsibility professionals, and volunteers to get a 360 view of the impact sector by downing our research: 2020 in Review: The Impact of Covid-19 on Volunteering and the Social Sector and better plan for what's ahead and maximize impact.
4. Focus on Self-Care for Yourself and Others

Taking care of oneself is the foundation for taking care of others. Self-care keeps us grounded during challenging times and uncertainty. Hear from the speakers from the You're Not Alone panel as they share real-life stories, practical tips and strategies to help with ideas for how to develop healthy, thriving relationships with yourself, at work, and in your community. The amazing panelists include:
Faye McCray, Editor-in-Chief,

Psych Central

Libby Alexander & Amanda Wendler, Mother and Daughter on whose story the film Four Good Days is based
Pamela Harrington, Executive Director,

Bring Change to Mind

, which was co-founded by Glenn Close
Nzinga Christine Blake, Emmy-Award Winning Executive Producer, Race & Culture, ABC Owned Television Stations, moderated the panel
Get some more ideas for how to care for yourself and others from these posts: 8 Ways to Get Healthier—While Helping Others! and 18 Ways to Take Care of Yourself and Others.
5. Find Safer Ways to Volunteer
As COVID-19 continues to make it more difficult for nonprofits to serve our communities, volunteering has become more important than ever — and there are many ways to do it safely! Explore 12 Safer Ways to Volunteer Today.
6. Increase Your Employee Engagement with Safe Volunteer Opportunities

With thousands of virtual and COVID-safe opportunities, you can build a more positive work environment for your employees by building or enhancing your volunteering programs through VolunteerMatch. According to the 2017 Deloitte Volunteerism Survey, "89% of employees believe that companies who sponsor volunteer activities offer a better overall working environment than those that don't." Increase employee engagement and create a volunteer program that your employees are looking for by giving them the flexibility to volunteer with the causes they care about wherever they are.
7. Learn How to Keep Your Volunteering Programs Moving Forward

Want to ensure your volunteer efforts continue to thrive during the pandemic but aren't sure how? Listen to the on-demand recording of the Webinar: Making the Case for Volunteering in a COVID-19 World. Learn more about the top 5 barriers to volunteering, tips for getting creative with virtual volunteering, and a proven methodology to recruit, engage, and retain volunteers during times of uncertainty. Watch the webinar now.
8. Get Tips on How to Recruit, Engage, and Manage Volunteers Online

Get tips on how to recruit and engage volunteers virtually. See how to use social media to recruit and engage volunteers by joining our Social Media and Volunteer Engagement webinar on Wednesday, December 15 at 11 am PT/2 pm ET. And learn how to design meaningful, mission-driven virtual volunteer opportunities and empower remote teams at the Designing Virtual Opportunities; Managing Remote Volunteers webinar on Thursday, January 13 at 11 am PT/2 pm ET.
Check out the VolunteerMatch Learning Center for more webinars to get engagement tips, industry insights, and volunteer management best practices.
9. Discover Insights from Nonprofits on How to Engage Volunteers During a Pandemic

Nonprofits have shifted the way they serve their communities to meet their needs during the pandemic. Season 2 of the Time + Talent Podcast hosted by VolunteerMatch's Director of Education & Training, Jennifer Bennett and VolunteerPro's President & Founder, Tobi Johnson focuses on the successful pivots nonprofits have made. "Our theme for the entire second season is how to pivot successfully. Each guest will share how they and their organizations have effectively navigated the engagement of volunteers during a global pandemic — including the opportunities and silver linings hidden in such critical transitions," said Jennifer Bennett. Listen to the entire season here.