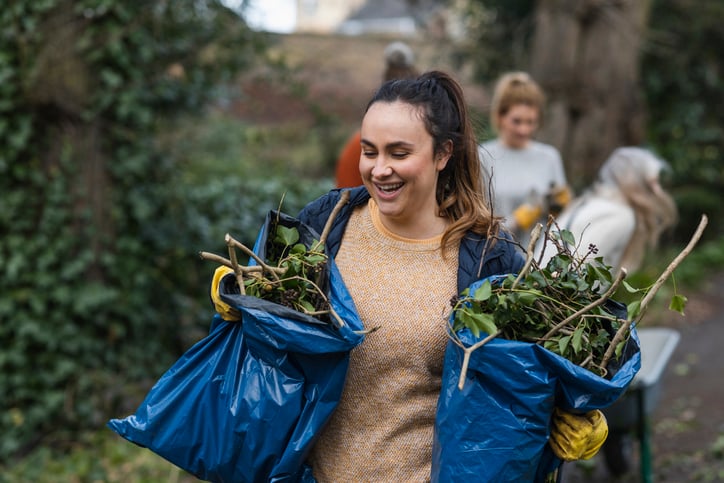 Any nonprofit professional will agree that the strongest volunteer bases are those who not only connect with the nonprofit's work, but with each other as well. This positions your sorority or fraternity's alumni community to excel as a volunteering unit.
Similarly, just as nonprofits can benefit from your team of volunteers, your alumni community can benefit from taking on volunteering opportunities. Let's explore how encouraging alumni to give their time together can strengthen your bonds in the long term. Promoting volunteerism alongside your alumni fundraising programs can:
1. Cultivate Continued Engagement
A constant challenge fraternity and sorority managers face is keeping alumni engaged over time. After all, many alumni move away from campus after graduation to establish themselves in the academic or professional worlds, so it can be difficult to keep them involved in your alumni activities.
However, volunteering provides a perfect chance to gather your alumni together to support a worthy cause. You can promote continued engagement with alumni volunteers by:
Pursuing

hybrid

or fully remote volunteering opportunities. Offering virtual volunteering options allows your alumni from out of town to participate.
Volunteering with nonprofits your alumni are passionate about. Survey your alumni to see which organizations they care about the most and organize volunteer opportunities with the most popular options so more alumni sign up.
Making volunteering sessions enjoyable. While it isn't always possible to ensure fun jobs during volunteering, do what you can to make the session enjoyable so that alumni want to return. For instance, your chapter could provide free lunch or merchandise to volunteers to celebrate a job well done.
Thanking your participants. Remember to thoroughly

thank your alumni volunteers

for their donated time so they know their impact and feel motivated to attend future events.

Fundraising Letters recommends

going above and beyond by sending them a personalized thank-you letter so they truly understand your gratitude.
By pursuing valuable and relevant volunteering opportunities, you encourage your alumni to not only support great causes but also reengage with your chapter.
2. Develop Alumni Skills
One of the biggest advantages of joining a sorority or fraternity is skill acquisition and development. By pursuing new activities through volunteering, your chapter can deliver on your promise of providing practical skill development. Your volunteers can develop skills such as:
Emotional intelligence
Time management and organization
Communication and teamwork
Problem-solving
Project planning and execution
Persistence
No matter the opportunity, your alumni can learn new skills or reinforce their talents in both tactical and strategic areas. Not only will practicing these skills enhance the volunteer effort but they can also elevate their personal, academic, and professional pursuits.
3. Provide Alumni Networking and Collaboration Opportunities
For many alumni, the community's shared connection to your chapter is a valuable networking asset. Enable these important chances to bond, both personally and professionally, by providing alumni with shared volunteer outings.
Also, while connecting alumni with each other is crucial, you should also remember to facilitate relationship-building between alumni and current student members. Outside of events like recruitment and reunions, it can be challenging for alumni to get to know students.
Creating a volunteer cohort with both alumni and students gives them the chance to collaborate and learn from each other. Engagement across generations enhances your chapter's sense of community and sets the groundwork for connections that last a lifetime.
4. Immerse Alumni in Chapter Values
Chances are, your sorority or fraternity holds philanthropy as a core value. By immersing your alumni in activities that support your values, you can reignite their passion for your chapter and all that it stands for. To reinforce your philanthropic principles, consider:
Hosting a discussion after volunteering to debrief about the impact of the session
Showcasing the impact of their work by sharing progress updates and stories from beneficiaries
Educating them about corporate social responsibility programs, such as

volunteer grants
This shared commitment to making a change in your community fosters a sense of unity in your chapter. Taking an active role in promoting your chapter's philanthropic pursuits can bolster alumni involvement in your general activities in the future.
Next Steps: Starting Your Volunteering Program
If you've been inspired to launch your own alumni volunteering program, you'll need to prepare yourself so your program rollout runs smoothly.
First, ensure you have the right volunteer management software on your side to help you track important data. Consider leveraging software solutions made for sororities and fraternities to track alumni involvement with your chapter so you know who to pitch opportunities to. Then, start planning your outreach, gathering feedback from alumni and students, and organizing volunteer groups!
No matter their generation or interests, your chapter members will appreciate the opportunity to make and strengthen lifelong friendships while lending a helping hand.