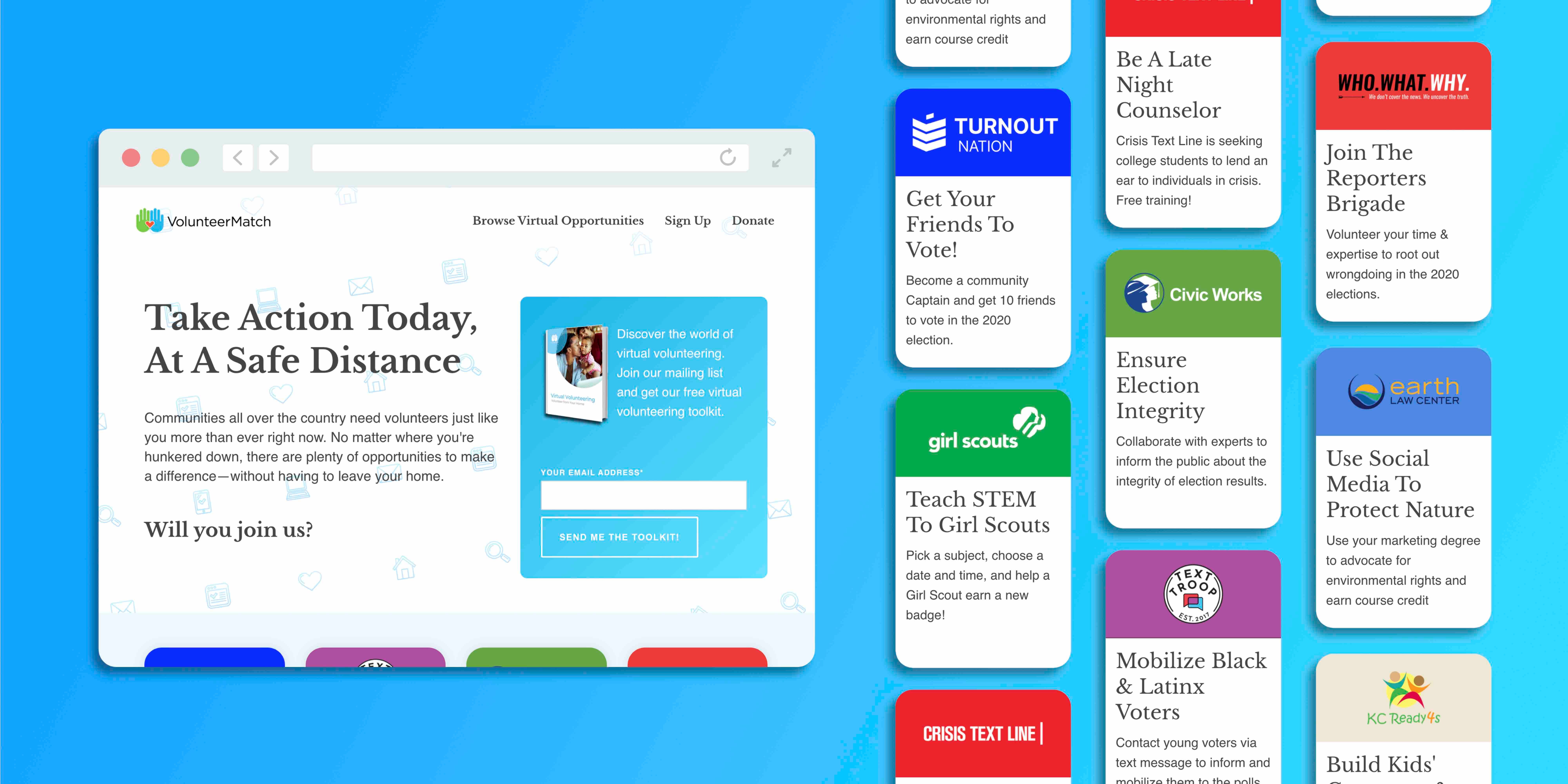 OAKLAND, Calif., September 23, 2020 — VolunteerMatch, the world's largest volunteer engagement network, has launched a new website designed to make election-related volunteering more accessible. Nonprofits including Turnout Nation, Open Progress, and Civic Works are featured, each of which offer volunteer actions that can be performed virtually via computer, phone, and mail.
"With election week only six weeks away, we've seen a significant spike in searches by individuals looking for ways to lend their time and talents to voting-related efforts in the U.S., and we're seeing a parallel trend with nonprofits seeking help for their causes," said Laura Plato, Chief Solutions Officer at VolunteerMatch. "We are excited to mark National Voter Registration Day by connecting causes and volunteers to help make sure all our community members are registered and have the opportunity to vote this year."
Through the new website, individuals seeking to contribute their time to election-related causes will find a diverse selection of impactful volunteering opportunities that can be participated in from the distance and safety of their own home. Over 6,000 volunteers are currently needed for the featured election-related opportunities.
Also available on the site are resources designed to inspire and encourage other forms of civic volunteer engagement -- free virtual volunteering content and downloadables specially designed to help businesses, nonprofit organizations, and individual volunteers succeed in a volunteering environment that has become increasingly virtual due to the ongoing pandemic.
"Election-related and virtual volunteering has never been in higher demand," says Ben Chutz, Vice President of Business Development and Marketing at VolunteerMatch. "Whether you're engaging volunteers at your nonprofit, running a volunteering program at your company, or are an individual hoping to contribute your time and do something good from the comfort and safety of your home, it can be hard to know where to start. Our goal with this new site is to provide an on-ramp to meaningful civic engagement by featuring timely, relevant opportunities and resources that will help anyone and everyone get involved in ways that matter most to them."
The actionable and content-rich site includes a library of toolkits that provide guidance, support, and best practices to ensure strong virtual volunteering participation and engagement in communities throughout the United States. The library is informed by insights drawn from the VolunteerMatch cross-sector survey initiative in which critical data was collected during the spring and summer of 2020 on the challenges that COVID-19 introduced to the impact ecosystem.
The new site is hosted at info.volunteermatch.org/virtual-volunteering-hub.
###
About VolunteerMatch
Founded in 1998, VolunteerMatch is the most effective way to recruit highly qualified volunteers for nonprofits. We are the largest nonprofit network in the world with the most nonprofits and volunteer opportunities. We believe everyone should have the chance to make a difference. That's why we make it easy for good people and good causes to connect. We've connected millions of people with great places to volunteer and helped tens of thousands of organizations better leverage volunteers to create real impact.
Direct link to press release on 3BL Media found here.