OAKLAND, Calif., March 26, 2020 — VolunteerMatch, the world's largest volunteer engagement network, has launched a volunteering portal specific to promoting virtual volunteering opportunities with nonprofits around the country to aid communities impacted by the coronavirus. Virtual opportunities are those that can be completed remotely, typically with a computer and internet connection, or by phone.
On the Help with COVID-19 opportunities portal, individuals who want to contribute their time and energy to causes that are directly supporting communities in need at this time can search through a growing inventory of COVID-19-specific virtual volunteering opportunities, currently requiring the help of over 44,000 volunteers and rising rapidly.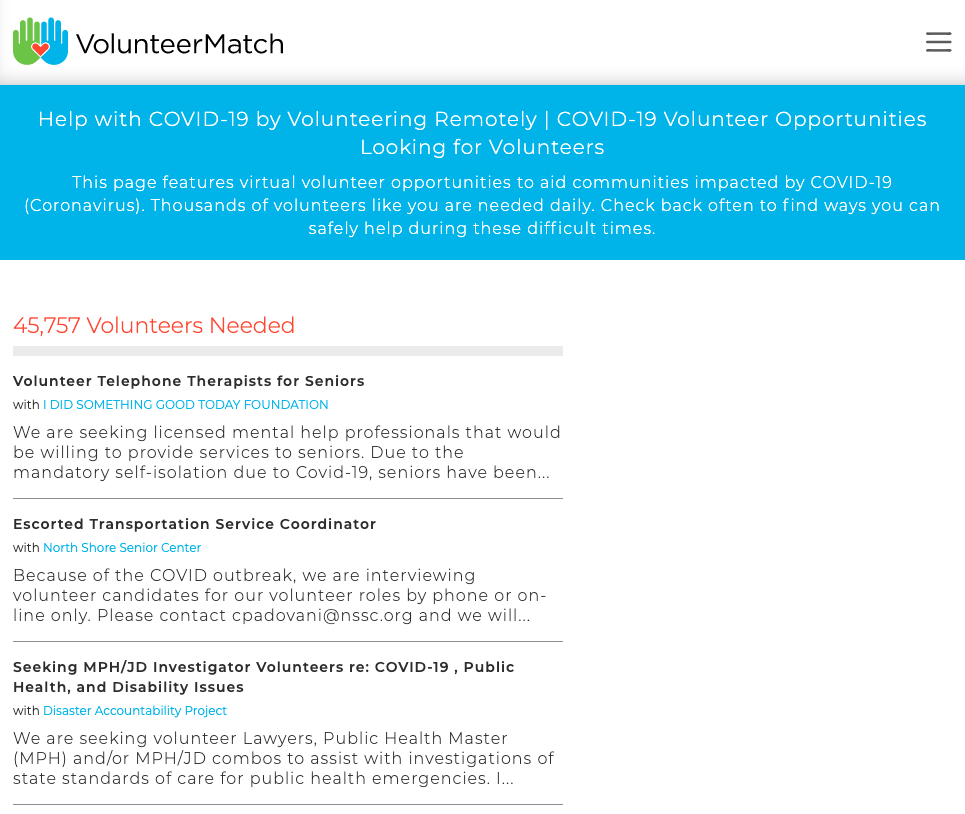 Additionally, individuals who are working from home, sheltering in place, self-quarantined, or otherwise prevented from volunteering in person can search a comprehensive database of virtual volunteering opportunities with organizations continuing to maintain operations in their communities. VolunteerMatch currently lists virtual opportunities requiring the participation of nearly 700,000 virtual volunteers across the US, and listings can be refined by nonprofit, group-friendliness, and 29 different cause areas, among other filters.
To make it easier for nonprofits to get the help they need during this crisis, VolunteerMatch has introduced key features to enable organizations to add a COVID-19 tag to new and existing volunteer listings in order to surface relevant volunteering opportunities to those who wish to support COVID-19-related relief efforts.
Additional measures are in place to ensure that listings categorized as virtual are made more searchable and easier to find, as a significant percentage of the nation's workforce is currently working remotely and yet continuing to show a strong desire to remain engaged in volunteering initiatives.
"Over the past several weeks as this crisis has unfolded across the nation, VolunteerMatch has been acutely aware of its responsibility to provide critical support to communities in need," says VolunteerMatch President and CEO Greg Baldwin. "Our team has identified this public health crisis as a focal priority, and we've completely oriented this organization towards addressing the challenges introduced to the nonprofit sector by this pandemic."
To find ways to get involved in COVID-19 relief efforts or virtual volunteering opportunities, please visit the VolunteerMatch COVID-19 Resource Hub.
# # #
About VolunteerMatch
VolunteerMatch believes everyone should have the chance to make a difference. As the web's largest volunteer engagement network, serving over 120,000 participating nonprofits, 150 network partners, and 13 million annual visitors, VolunteerMatch offers unique, award-winning solutions for individuals, nonprofits and companies to make this vision a reality. Since its launch in 1998, VolunteerMatch has helped the social sector attract more than $12 billion worth of volunteer services. Learn more about VolunteerMatch at VolunteerMatch.org, and follow @VolunteerMatch on social media.
Direct link to press release on 3BL Media found here.