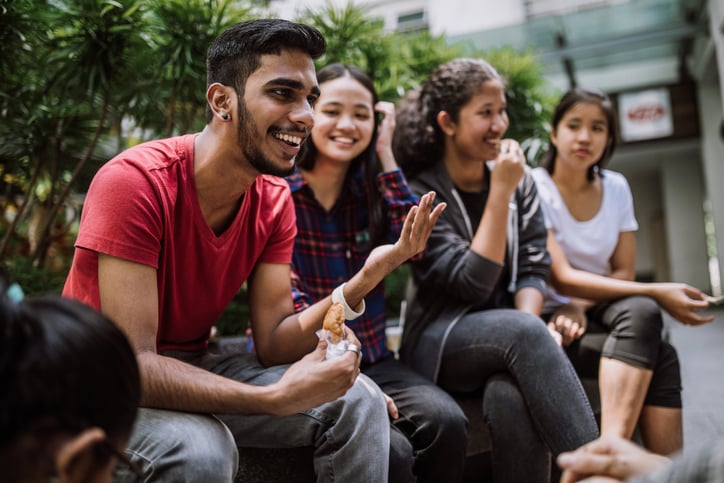 "Life's most persistent and urgent question is, What are you doing for others?" — Martin Luther King, Jr.
As we near the end of another powerful week of service honoring the legacy of Dr. Martin Luther King, Jr., we hope you're inspired by some of the innovative leaders -- both individual and organizational -- we featured on the blog this week who have chosen to make community service core to how they live and work.
Did you find an organization to support this year? Or lend a hand at one you've loved for a long time? Tell us about it!
If not, there's still plenty of time to begin bringing to life the benefits of volunteering in your personal life and community -- even the virtual community!
This week, we explored a range of volunteer service experiences that would never have been possible to necessarily understand or measure 20 or even 10 years ago: from how volunteering can positively impact your health, to looking at how technology partnerships are changing the game for volunteers in the workplace, to how one company has embedded giving back in the core of their customer experience.
Central to this series, and to our mission at VolunteerMatch, is the question, "How can innovative technology help us to do more to help others, more effectively, at scale?"
In June of this year, we reached a massive milestone for our network: 15 million volunteer-to-nonprofit connections made. It's a number that continues to rapidly grow, and we couldn't be more pleased to see so many individuals matching with causes they care about. And it's a number that could never have happened without a mission to build a technology platform that strengthens the ethos of volunteering at scale.
If we all approach volunteering from a mindset of how technology can help us to make deeper connections and ignite a spirit of community across platforms, our impact can exceed even our wildest imaginings. Consider the ALS Ice Bucket Challenge: over $115 million was raised during just an 8-week period. That's just one more example of how technology gives us the ability to rapidly connect and scale to make a dramatic impact in a very short period of time.
"I suppose leadership at one time meant muscles; but today it means getting along with people." --Mahatma Gandhi
And while technology is critical, at the core of positive social impact are human beings, and our ability to motivate, support and uplift one another. As technology evolves, it also can cause division. If we want to lead social change locally, or globally, we must commit to developing our interpersonal skills and maintaining great relationships.
By exposing each of us to a world of people and experiences often far different from the ones we are used to in our day-to-day lives, volunteering helps us grow as individuals and as leaders. When we volunteer, we gain new skills and develop a robust toolkit to help us change the world in the ways we wish.
A few years ago, VolunteerMatch published the book, Volunteer Engagement 2.0: Ideas and Insights Changing the World, and captured a wealth of stories from volunteering leaders and offered actionable advice that can help anyone who's embraced this path.
As individuals, we can commit to advancing our communities and ourselves by following our passions, becoming stronger leaders and broadening our skills. According to research by the Corporation for National and Community Service, volunteers have a 27% higher likelihood of finding a job after being out of work than non-volunteers. And, volunteers living in rural areas have a 55% higher likelihood of finding employment.
Additionally, the Deloitte Developing Leadership Skills through Volunteerism survey showed that of those who had direct or indirect influence over hiring decisions, 82% of them said they would be more likely to choose a candidate with volunteer experience on their résumé. Beyond that, 80% of respondents said that active volunteers move more easily into leadership roles. It's really powerful to think about what this all actually means. You can give your time around something that you truly believe in, while also moving you forward on your career and leadership goals.
It's rewarding on many levels to volunteer, but does it have any effect on us once we get that job we wanted so badly? We know that leaders have the power to positively influence employee engagement and culture while supporting a worthy cause.
Based on the Cone Communications Employee Engagement Study, 74% of employees say their job is actually more fulfilling when they're provided opportunities to make a positive impact at work. The Deloitte Volunteerism Impact Survey showed that 74% think volunteerism provides an improved sense of purpose, 70% believe volunteer activities are more likely to boost employee morale than company-sponsored happy hours and 77% say company-sponsored volunteer activities are essential to employee well-being.
All this data reminds us of a quote attributed to Woodrow Wilson: "You are not here merely to make a living. You are here in order to enable the world to live more amply, with greater vision, with a finer spirit of hope and achievement. You are here to enrich the world, and you impoverish yourself if you forget the errand."
There are so many options for us all to do good in our communities and strengthen who we are as individuals and leaders at the same time. The time is now to take action. Let's make 2020 a year we all commit towards taking one small step towards building a better world.
Don't know where to begin? With over 4.9M volunteers needed in 29 distinct cause areas on VolunteerMatch, you decide how you want to make a difference.