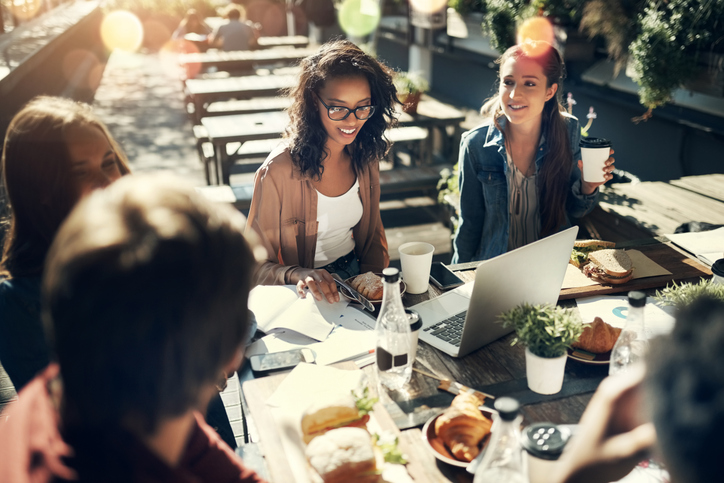 Want to make volunteering a bigger part of your life? Or encourage volunteers to join your cause this year?
It's time to make volunteering a habit!
Over 1.3 million people visit the VolunteerMatch site every month -- and a great many of those visits are from people who know they want to volunteer, but don't know where to begin. It's a problem that, with opportunities in every zip code in the U.S., and thousands of virtual and international opportunities, VolunteerMatch is uniquely able to help solve.
But, as the first stop for an entire generation of volunteers over our 20-year tenure as an organization, one of the big things we've learned: our lives are getting busier every day, and we've got to make time for volunteering if we want to live out the value of service.
Here's a surprising set of data points: 90% of people say they want to volunteer, according to research from the Stanford Center on Longevity. But, according to Volunteering in America, in 2018, only 30% of us volunteered through an organization. What's happening to the other 60% who said they wanted to get involved? What can we do to help bridge that gap?
One thing we believe can go a long way is setting small, attainable goals, and making community engagement a practice just like you would any behavior you hope to emphasize. We each have the power within us to shift our behavior by taking small actions each day. Over time, those actions can dramatically change our lives and the lives of those around us.
Here's a plan to help you shift from wanting to volunteer, to enjoying and sharing the benefits of being a volunteer every day.
Focus. We each have a limited amount of willpower, so success means zeroing in on creating one new practice right now: volunteering. At first, you may need to spend small chunks of time researching and thinking about what you are passionate about before reaching out to a cause. It's easy to get sucked into the research phase. Set some time limits on how long you'll research before just giving something a try. Sometimes it's best to just step into an event rather than staying stuck in search mode! Find something that makes volunteering fun and seems like something you'd like to try. Virtual volunteering provides a great entry point, given the flexibility and convenience. You can volunteer from anywhere and give as little as just 15-30 minutes a day. You can start by looking at virtual opportunities on VolunteerMatch or re-connecting with organizations you have existing relationships with or are aware of in your community. Virtual volunteering can also become the way you give back long-term, and offers a rewarding way to build skills related to your career or personal goals, while improving others' lives. Remind yourself that time spent on volunteering is your time -- time to develop and follow your life's true passions while helping others.
Be realistic -- but commit! It's essential to do something small but volunteering-related every day for 30 days to cement in your new practice. Once you've decided what cause you will be supporting and what you will be doing, plan out how you can keep it in focus each day. Focusing on volunteering just a short time daily for 30 days can help you establish your practice. A journal can be a great tool in helping keep your focus on the cause area you care about and on cultivating the volunteering habit. You can begin by asking yourself questions. Are there areas of your life where you feel like there are time sucks? Are there times of day where you take breaks like lunch, where doing some good would be a nice escape? Would it be helpful to enlist co-workers, friends or neighbors to join you on this journey? Is there a time you could schedule regularly daily or weekly to meet up with them and volunteer together? How can you dedicate yourself to find ways to structure your life around building this habit? Where do you have a few time slots in your day you can devote to volunteering? This will give some flexibility and freedom, so you can easily fit it in to a busy schedule.
Take it one step at a time. We often stop ourselves before we even begin by making the new practice too hard. So, when it comes to adding more volunteering into your life, make it as easy as possible. What time commitment or task makes the most sense for you? Is it writing one paragraph, sending one email or dedicating 5 minutes a day to a project? Can you commit to a once a month board meeting or online mentoring sessions? This is a time to do something that you love, while giving back, so doing it in tiny manageable steps will make it a rewarding experience. How do you make it feel easy? Maybe you ultimately want to devote 15 minutes of your day to volunteering, so committing to 5 minutes a day might be the best place to start. Even though you may have big ideas of where you are going, tackling it in small chunks will keep you motivated to want to do more.
Accept that there may be challenges. Time is a common obstacle for all of us when we think about bringing in more of anything we really want to do. But there may be other challenges that arise as well. Anticipate this and be ready to consider ways you can move past them. Since you may be developing a new skill, you may feel frustrated or stuck. Are there people who could help you? You also may feel vulnerable, since it's new and don't want to make a mistake. How do you give yourself space to learn? Moving past barriers is about building a process to refuel your energy and stay inspired.
Celebrate small wins… together. Let others know your plans around volunteering. Whether that means sharing on social media or texting updates to a friend, consider making a public commitment to your goal and celebrating each other. This can help you to stay dedicated and create a group of supporters along the way. Another benefit is you can bring others with you. Doing something together not only will keep you focused, it can also be more fun. You are making a difference in people's lives and yes, that feels good, but it's also important to recognize your own accomplishments. What are ways you can reward yourself for making progress? Sometimes it's easy to get so focused on the work that we don't take the time to appreciate ourselves and acknowledge what we have done. Take time to celebrate how far you have come towards creating a volunteering habit.
Now that you know the steps to make volunteering a habit, what cause are you going to support the next 30 days? At VolunteerMatch employees receive 8 hours of paid volunteer time per month to do good in our communities. As a new member of the team, I am going to share my personal journey of how I am making volunteering a habit on social media. I hope you will join me. Share what you are doing using: #VolunteerHabit.