This week is National Adult Education and Family Literacy Week and we want to show some #LocalLove to Literacy Minnesota, the only statewide, volunteer literacy organization in Minnesota.
Sophie Phan, Volunteer Outreach Coordinator and volunteer for Literacy Minnesota, believes in English literacy as a powerful means to broaden educational and economic opportunities for immigrants and refugees in the United States. Sophie immigrated from Vietnam to Minnesota when she was five years old, grew up as a voracious reader, and believes in the power of stories to motivate and inspire.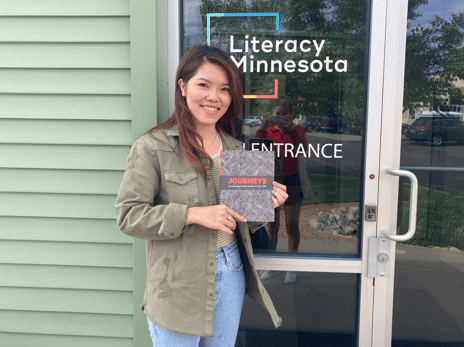 Sophie holding Journeys: An Anthology of Adult Student writing. These stories share the journeys and perspectives of adult literacy students.
When asked how volunteering for Literacy Minnesota has affected her, she said "It's humbling to play a small part in the process of people establishing themselves in a new country. It reminds you of what you have, and all there is to be grateful for."
According to the National Literacy Coalition, only half of the immigrants in the United States are proficient in English. The most prominent first languages spoken by students with Literacy Minnesota include Spanish, Karenni, Somali, Hmong, and in recent years, a variety of Afghan languages. Sophie explained, "it is important to meet people where they are." When you volunteer for a literacy organization, you are "planting the seeds for change. Growth may be slow, but you are making a difference."
Sophie shared the story of one student, Bwe Soe, who fled Burma when he was 13. After living in a refugee camp for 15 years, he reunited with his parents, who had settled before him in St. Paul. Bwe knew little English but Literacy Minnesota's Open Door Learning Center helped him gain the language skills he needed to attend college. His dream now is to give back by working with new immigrants as a case manager or social worker.
While literacy organizations are growing their programs throughout the country, fewer than 10 percent of those who could benefit from adult education programs participate in them. Volunteers are essential to ensuring these kinds of programs are accessible to all who need them.
Explore how you can support English language learners on VolunteerMatch.org!
Americorps VISTA Volunteers packing up books from the Summer Reads program, where volunteers serve as literacy tutors and mentors for children experiencing poverty.