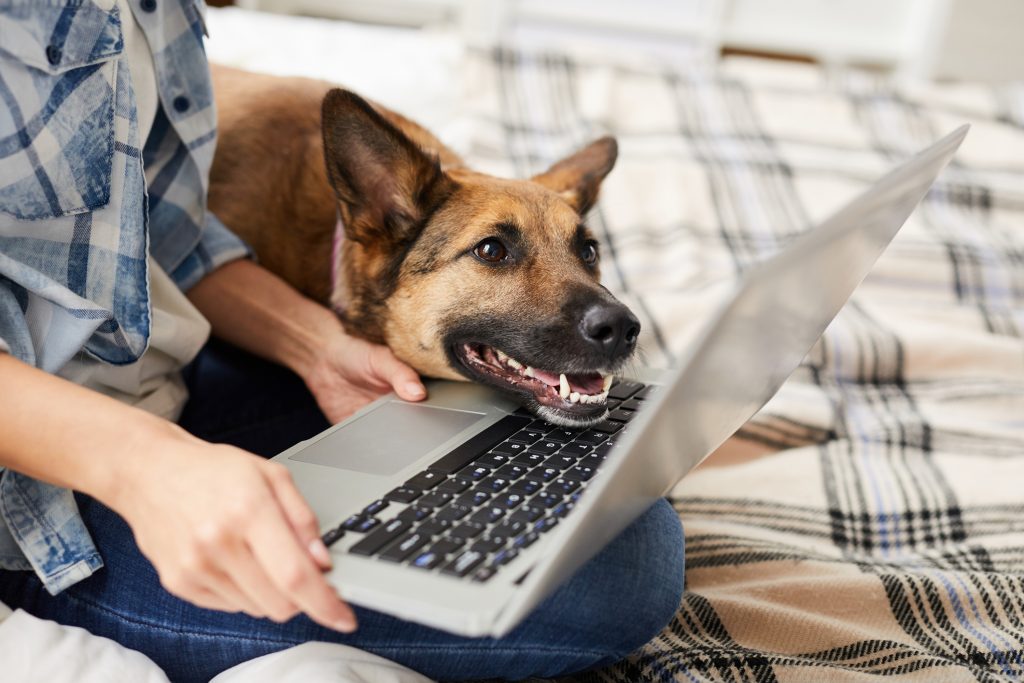 Generosity and Bravery Drive the Pivot to Virtual Volunteer Solutions
During this time of unprecedented environmental, economic, and social challenges, the VolunteerMatch team took a human-centered design approach to crafting our response to the COVID-19 crisis.
One of our first acts was to establish a series of listening posts that could help us understand the needs and concerns of our diverse constituents.
During a two-week period in March, we effectively turned our public website at volunteermatch.org into a listening post, and were able to channel over 1000 of our core community members—including nonprofit leaders, socially responsible businesses, and do-gooding individuals— directly into a quantitative survey tool. Participants from all these sectors responded to tell us more about their experiences.
The results shine a spotlight on urgent needs and issue areas for which we previously only had anecdotal evidence. Hearing stories from the field is essential and hard data allows us to take more strategic action, and focus our efforts with intention.
Today, we want to share a slice of our learnings with you, tell you a bit about how we're responding, and invite you to join us in taking action at this critical moment in time.
COVID-19 Surfaces Critical Training, Business Continuity Needs for the Nonprofit Sector
Nonprofits at the best of times worry about keeping heads above water -- and this has only worsened during this crisis.
One respondent explained how the virus has affected every facet of his organization:
We are hit hard, on all fronts, here at the food bank. Donations are down significantly, many of volunteers (60+ y/o) are opting to shelter in-home, and demand for our services is spiking. People in our community are desperate and we are struggling to process and accommodate the influx of new clients.
The high demand for services, paired with minimal resources, is a serious dilemma for nonprofits all around the country. Their leaders worry about the people they serve, layoffs, and how to fundraise without the menu of events typically available to them.
Most of the nonprofits VolunteerMatch serves, naturally, rely on volunteers for their daily operations. We were curious how the current conditions have impacted volunteer attendance. Here's what they told us:
How have the current environmental, economic, and social conditions impacted your volunteer attendance?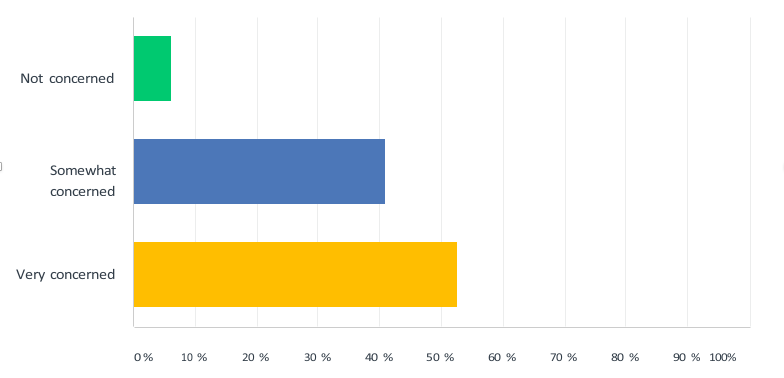 | | | |
| --- | --- | --- |
| ANSWER CHOICES | RESPONSES | |
| We're seeing heavy cancellations | 68.03% | 315 |
| We're seeing some cancellations | 24.62% | 114 |
| Minimal or no impact | 4.10% | 19 |
| We're seeing higher volunteer turnout than normal | 3.24% | 15 |
| TOTAL | | 463 |
Leaders in the space relayed critical concerns about recruiting, engaging, and monitoring their volunteers effectively during self-quarantine, and expressed a real need for supportive practices in these areas.
Given this need, VolunteerMatch has taken an approach which allows us to both surface the wisdom of the members of our community on an ongoing basis through a Slack Workspace, and by forming an educational coalition with some leading partners in the space, which will be announced formally in the coming days. We encourage leaders who have experiences and tools to share to join us in the Slack Workspace and participate in the conversation.
Socially Responsible Businesses are Embracing a Pivot from In-Person to Virtual Volunteering
Nonprofits are turning to their for-profit partners during these stressful times.
One nonprofit respondent summed up the seriousness of the situation organizations like his face around volunteerism, saying: "Volunteer engagement is impacted 100%. Smaller communities, non-profits, are all feeling the impact and approaching businesses for help."
Many leaders from socially responsible companies shared with us that they are eager to meet the growing needs of the nonprofit sector. They are actively seeking ideas and recommendations to quickly shift the focus of their employee volunteering programs away from group-based, event-driven volunteering activities, and allow them to encourage new and highly relevant forms of employee engagement.
In what ways have you adjusted your volunteer engagement strategy given current environmental, economic, and social conditions?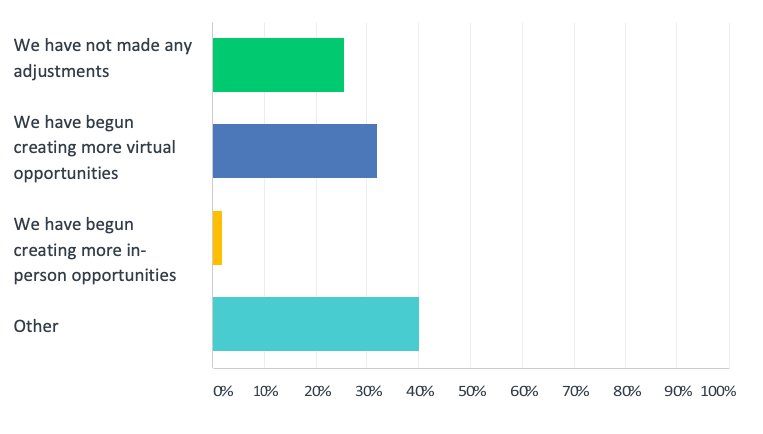 | | | |
| --- | --- | --- |
| ANSWER CHOICES | RESPONSES | |
| We have not made any adjustments to our volunteer engagement strategy | 25.70% | 119 |
| We have begun creating more virtual volunteer opportunities | 31.97% | 148 |
| We have begun creating more in-person volunteer opportunities | 2.16% | 10 |
| Other | 40.17% | 186 |
| TOTAL | | 463 |
As this figure illustrates, there has already been a marked change in the way people are thinking about employee volunteering. Participants were especially curious to learn more about provisioning virtual volunteering or CDC-approved remote activities. Based on our continued engagement with these volunteering managers, we are already beginning to see some companies make the pivot successfully. At the same time, many are still actively searching for ideas and will make program modifications and budget decisions later in the year.
As part of our response, VolunteerMatch has begun to work closely with our partners, including Benevity and YourCause + Blackbaud, to ensure corporations have access to our volunteering opportunities database through their robust workforce engagement platforms. We also continue to make our database available directly to companies who wish to engage strictly in volunteering through our easy-to-integrate API.
Volunteers Want to Serve Safely -- Both Virtually and In-Person
Volunteers expressed a need for options during this critical time in our history: they want to both to help others and stay safe themselves. Despite a natural concern around illness -- either passing along the virus or falling victim to -- many of our respondents expressed a strong willingness and desire to serve in person:
"As a veteran with a pension that meets my financial needs, I do not wish to take a job away from a member of my community that desperately needs one in these uncertain times. Instead, I would prefer to volunteer, however, locating volunteer opportunities to help with the COVID-19 crisis is difficult. I am also in a much lower risk category, so I feel individuals like myself might be best suited to person-to-person outreach."
This veteran's sentiment is a testament to the bold generosity that pulses through our civil society, and is one data point that has informed VolunteerMatch's own response. It's also an attitude shared by many dedicated volunteers, who voiced their concern for the vulnerable populations they are used to helping.
How are the current environmental, economic, and social conditions changing how you think about your volunteering efforts? (Choose all that apply)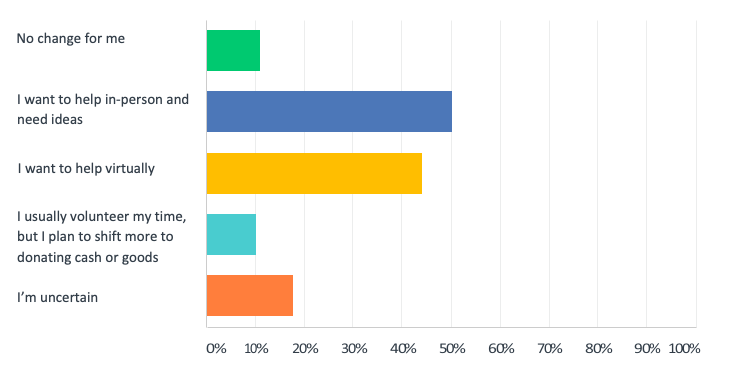 | | | |
| --- | --- | --- |
| ANSWER CHOICES | RESPONSES | |
| No change for me – I intend to volunteer exactly as I have been | 11.11% | 13 |
| I want to help in-person and need ideas of what that could look like | 50.43% | 59 |
| I want to help virtually or online | 44.44% | 52 |
| I usually volunteer my time, but I plan to shift more to donating cash or goods | 10.26% | 12 |
| I'm uncertain | 17.95% | 21 |
| TOTAL | | 117 |
The thinking around volunteering must adapt to the realities of the times, if we are to provide resilience and recovery for the nation's most vulnerable citizens. We hope that, at VolunteerMatch, we are helping shape the path for what that may look like.
Within just one week, we stood up a COVID-19 Volunteering Portal dedicated to serving causes both locally and in-person, with volunteering needs specifically related to COVD-19, whether those were in the service to the frontlines, or associated with volunteer losses experienced because of the virus. And, we created VolunteerMatch Connect, a free digital product that allows anyone with a website to turn their site into a volunteer recruiting tool with just a copy-paste of code.
The Only Way Forward is Together
When we look to our nonprofits, we understand their primary concerns span the entire volunteer life cycle: from engaging and recruiting volunteers, to surviving financially while traditional fundraising events are on-hold indefinitely.
At the same time, it's clear that socially responsible businesses worry about their nonprofit partners, but must also consider their own business bottom line while finding ways to engage employees who may be on-staff or furloughed through safer local and virtual volunteering opportunities.
And from volunteers, it is as heart-wrenching to hear from so many people who are both fearful for their own lives and those of their families, as it is heart-warming to hear how determined they are to help.
As we look to the future, this work will not -- and cannot -- exist in a vacuum. The challenges we face are too great for a single entity, or even a single sector, to take on alone. We hope that you will join with us in responding to this crisis, whether that is through one of the spaces mentioned earlier in this post, or by making use of or contributing directly to our Resource Hub.