VolunteerMatch Connect Mobilizes Volunteers, Supports Nonprofit Sector in Response to Unprecedented Levels of Volunteer Cancellations
VolunteerMatch, the world's largest volunteer engagement network, has launched VolunteerMatch Connect, a free product that enables everyone to turn their website into a volunteer action hub with a simple copy and paste code snippet.
"From research we performed during the month of March, we learned that 93% of nonprofit organizations are seeing heavy volunteer cancellations, with some losing over 50% of their volunteer force," said Laura Plato, VolunteerMatch's COVID-19 Response Leader. "Building awareness of virtual and safer local volunteering opportunities in service to our most vulnerable populations during this time of great need is critical. VolunteerMatch is proud to make this digital product available completely free to support the effective recruitment and coordination of volunteers at a local, state and federal level."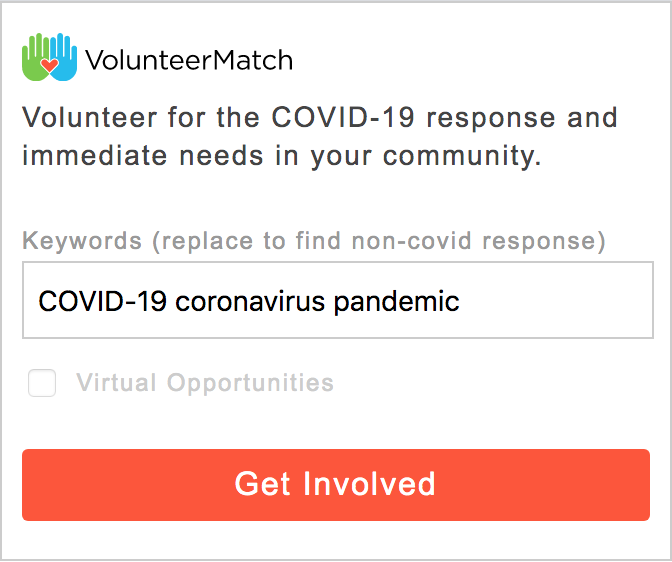 VolunteerMatch Connect provides direct access to search and connect to opportunities through the Help with Covid-19 Portal. Nonprofits are able to post opportunities related to the coronavirus pandemic and the site forms a point of connection for organizations and individuals, so that they can respond quickly to the frequently-changing needs of their communities.
"There are over 100,000 virtual and local volunteers currently needed across the United States to aid communities impacted by the coronavirus outbreak, and each day we see this number increase. By offering a self-contained module that easily integrates into a website in a standard ad-sized space, anyone from solopreneurs, to bloggers, to large organizations can now take full advantage of VolunteerMatch's capabilities to engage their communities in service," said Plato.
Two sizes based on common ad specifications are currently available: large rectangle, 336px by 280px; and half page, 300px by 600px. You can grab the VolunteerMatch Connect code here.
VolunteerMatch has also established a VolunteerMatch COVID-19 Resource Hub and Slack Workspace to encourage the wisdom of the crowd, and is making its comprehensive database of nearly 800,000 virtual volunteering opportunities more searchable and easier to find.
# # #
About VolunteerMatch
VolunteerMatch believes everyone should have the chance to make a difference. As the web's largest volunteer engagement network, serving over 130,000 participating nonprofits, 150 corporate partners, and 13 million annual visitors, VolunteerMatch offers unique, award-winning solutions for individuals, nonprofits and companies to make this vision a reality. Since its launch in 1998, VolunteerMatch has helped the social sector attract more than $12 billion worth of volunteer services. Learn more about VolunteerMatch at VolunteerMatch.org, and follow @VolunteerMatch on social media.
Direct link to press release on 3BL Media found here.