Last month we held our first ever Webinar Design Session: Solving the Retention Problem. I want to thank everyone who attended and participated — it was a really dynamic conversation! You can learn more about the question that started all of this, some of the existing challenges with retention, and my thoughts here.
What we did:
I wanted this session to be a two-way conversation, and to be an opportunity to crowdsource some of the challenges around building relationships with volunteers and to better understand what we all mean when we say retention. I asked 5 questions and invited people to vote, type in their comments, or to unmute and share a question, comment, or idea.
I am still reviewing and organizing all of the information, but I have a few initial takeaways and some next steps I'd like to share.
What we learned:
I created 5 poll questions to help frame up the conversation.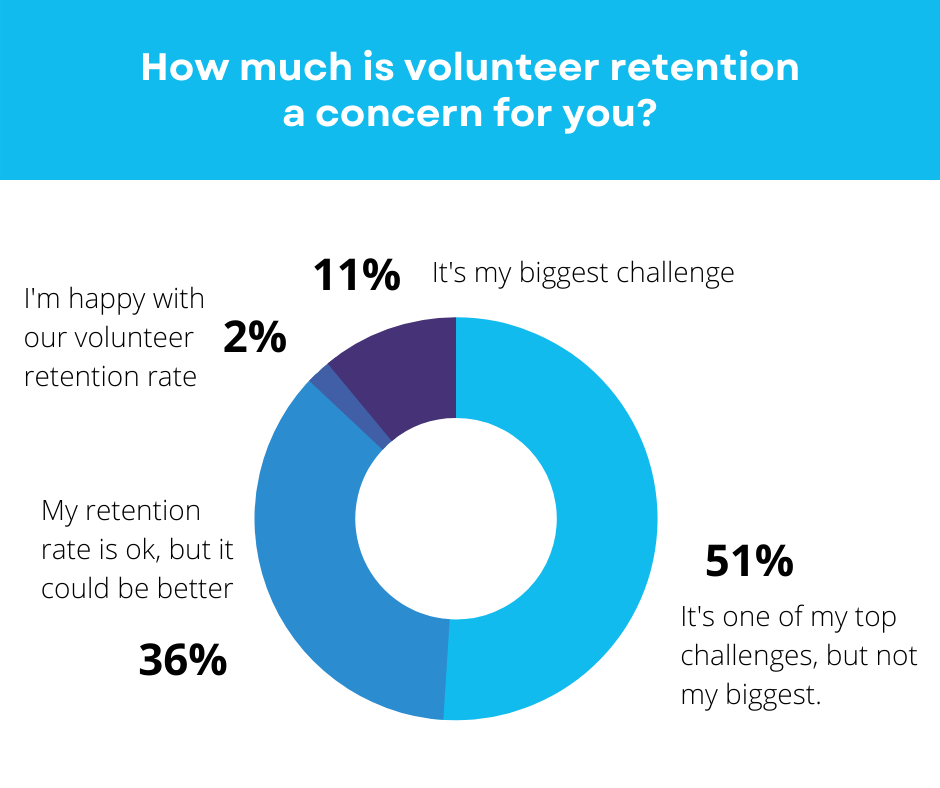 This isn't too much of a surprise, thankfully a large majority felt their retention could be better, or said it was one of their challenges, but not their biggest.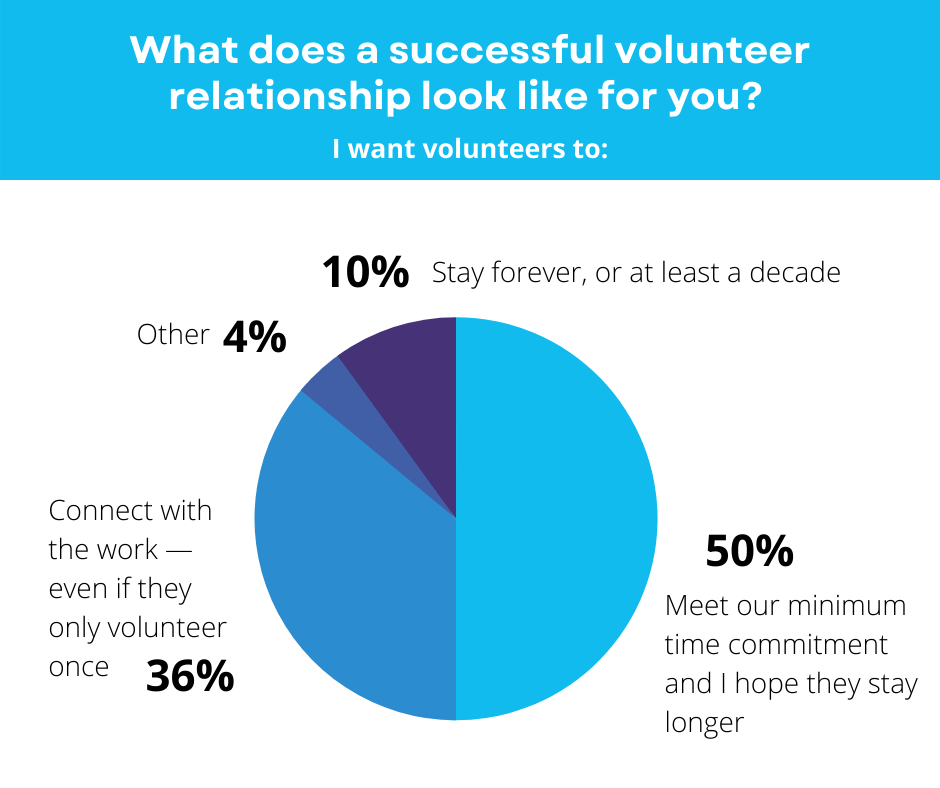 These responses were a little more surprising. I'm very impressed that 36% answered that a connection to the mission was a success, and that 50% were happy when volunteers completed a minimum time commitment. While the good news is that most people didn't have unrealistic expectations for volunteer tenure, it does mean that we'll need to work harder to understand where the challenges really lie. And we ended with a great conversation about how a volunteer moving on to pursue higher education or to paid work can and should be a reason to celebrate!
I loved some of the comments about what success could look like:
Paula shared "I've flipped my understanding of 'lifelong volunteers' to creating 'lifelong advocates'." and "If I'm investing in a volunteer (paying for drug tests and background checks, etc.) then I do ask for a minimum commitment, but otherwise I want volunteers to see short-term easy ways to connect with us and our mission, then have the freedom to go and pursue the rest of their lives with a new understanding and advocacy for our mission and their own health."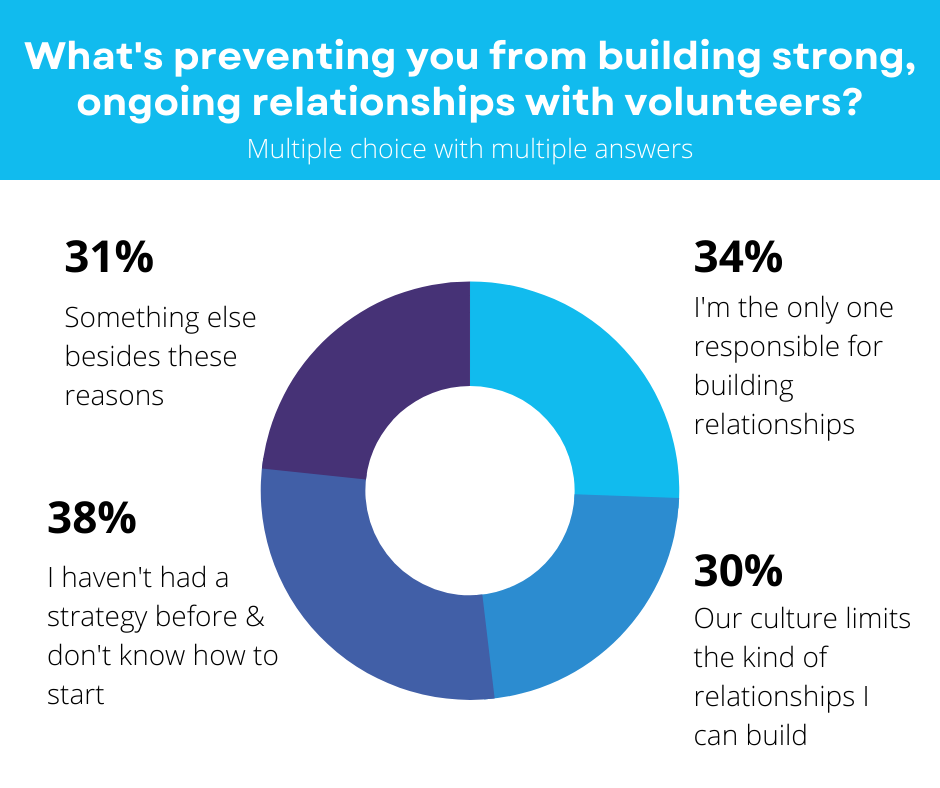 These answers are so interesting! Attendees could choose multiple answers so many organizations are struggling with more than one barrier, but to have things so evenly distributed was a surprise. And again, it reinforces the idea that this isn't an easy problem to solve. Many leaders of volunteers haven't had to think about this before, and may be thinking about the role culture plays in volunteer engagement for the first time.
We saw COVID show up again here — it's harder to build relationships with remote volunteers. And, some people expressed challenges around building relationships when there are large numbers of volunteers deployed within the organization and/or in diverse roles. And a fair number of responses were from "facilitators" of volunteer engagement — those of us who pass volunteers off to others within the organization and lose insight into and accountability for the relationship building.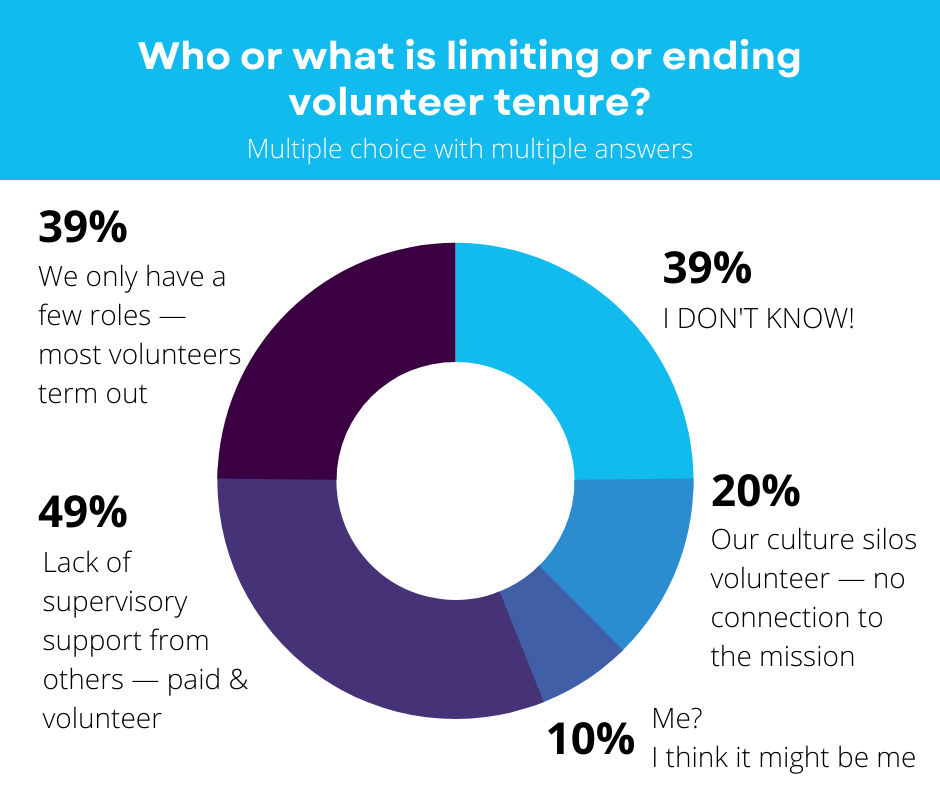 We can see the challenges with handing off volunteers to others show up here as well. And we see some self-doubt and a whole bunch of mystery in these answers. Designing good volunteer opportunities as well as having volunteer pathways is a contributing factor too. COVID showed up here, and a few unique situations for individual organizations like organizational transition and recruiting from more transitory populations like military spouses and students.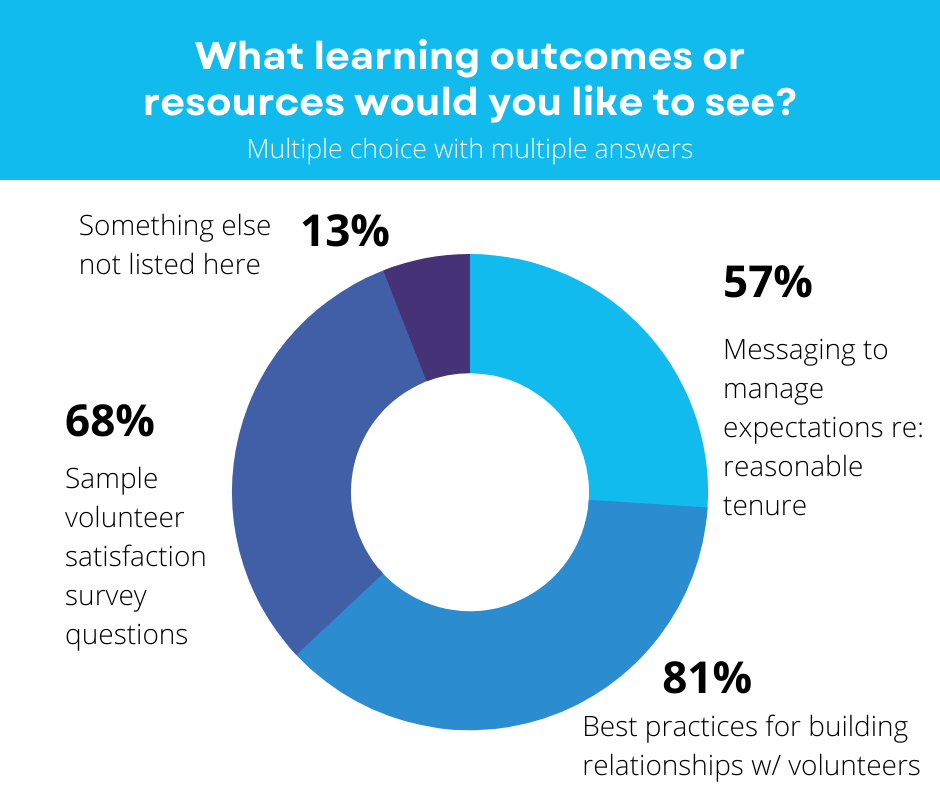 Lots of good answers! We saw requests for change management tools and best practices for navigating volunteer's resistance to change. (We do talk about this in Successfully Implementing Volunteer Program Changes, and Managing Difficult Volunteer Transitions.)
We had requests for next steps, so…
What comes next:
As we can see from the poll answers, this is not something that has an easy quick fix. If we want to solve the retention problem we may need to have larger conversations within the field, in our organizations, and with volunteers.
Samantha shared "This conversation has been SO challenging! I am learning so much and recognizing that our organization has not considered a lot of these topics before and we have A LOT of work to do! I'm excited to get started on talking about this with others at my organization. I would LOVE a follow-up discussion . . . great we had this conversation, now what? Where do we go from here? What are some actionable steps to take after thinking this through?"
We've started a LinkedIn Group to do exactly that! And you can join us for the first webinar designed with your input and participation. We'll be holding Rethinking Retention: Understanding Strategic Volunteer Relationships on June 16th.
I'm really excited to see where we can go together. I hope to see you in the LinkedIn group and if there's another idea or topic you'd like me to cover please let me know.