Highlighting Art as Activism to Celebrate National Volunteer Week April 18 – 24, 2021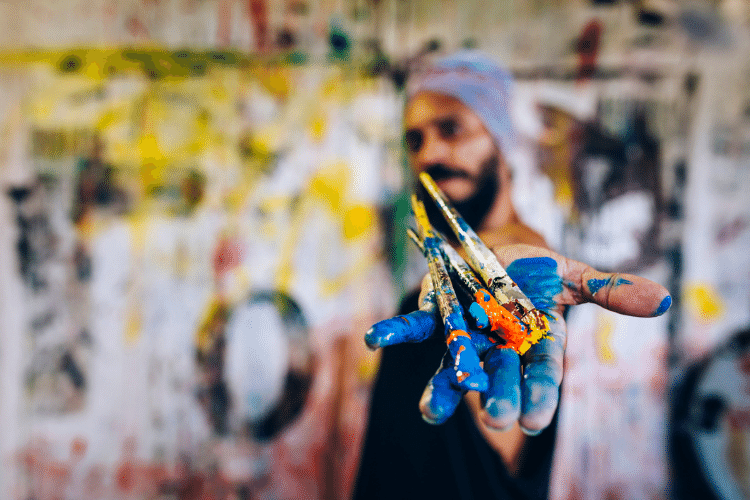 Oakland, CA – April 6, 2021 – VolunteerMatch announces a week of daily events to honor volunteers in celebration of National Volunteer Week April 18-24. The week will showcase artists in multiple disciplines to highlight and encourage art as activism. Emerging from the past year of a global pandemic, VolunteerMatch is activating a call for volunteers of all kinds to return to service in their communities wherever and whenever possible. The dramatic reduction in volunteers (80%) during the COVID-19 crisis spotlights today a critical focus on energizing our heroes to engage again with local organizations across the country.

With approximately 4.6 million opportunities available, VolunteerMatch leverages its website and social media channels with this call, highlighting helpers who are the heart and soul of our communities. In addition to all of the in-person opportunities, those who still need to volunteer safely from home can learn how virtual volunteering works and where these kinds of opportunities are available.

"Artists and creators lift us up and show us what's possible during times of celebration and times of tragedy. They inspire us to think in new ways and encourage us to be willing to pivot from what we've always known to explore new ways of doing and being when the world turns upside down. Being able to escape reality's challenges for a moment when we dance to a favorite song or immerse in a great book or movie can be the one thing that keeps us going. And it is art and creativity that inspires and supports us as we reenter a world not the same as we left it a year ago. As we rise to meet this moment, there is a need for over 4 million volunteers, reminding us the time for advocacy, activism and being of service to our neighbors has never been more real." – Laura Plato, Chief Solutions Officer, VolunteerMatch

During National Volunteer Week, VolunteerMatch showcases the theme of Art as Activism by engaging a cross section of visual and graffiti artists, designers, musicians, filmmakers, authors, and fashion and beauty superstars for its schedule of events:
Mon 4/19 Violin + Volunteers: (DSharp) Encore performance by popular demand.
Tue 4/20 Beats for a Better World: National Volunteer Week 2021 Playlist (Curated by Anthony Demby, Founder of Humbleriot, an organization that utilizes music to create intentional experiences and compelling stories. Anthony is responsible for much of Childish Gambino's success. He develops music strategy for brands like SoHo House and Google.)
Wed 4/21 Brushes + Buttons for a Better World: Activism as Beauty & Fashion, moderated by Sage Adams, Artist & Curator. Adams (They/She) is a Brooklyn based artist and got their start on Tumblr as a young black person discussing politics, art, and of course, One Direction. From that initial interest in the arts Adams would go on to be the creative director for music sensation SZA and a frequent collaborator with NIKE and speak at the United Nations Girl Up summit. The 24-year-old wunderkind is a passionate learner and is determined to make sure the next generation has access to art and its joys.

Panelists include:
• Kim Hill is an original member of the Black Eyed Peas and owner of Next of Kim, a beauty, fashion and art brand where she is dedicated to artistry and storytelling to advocate for the LGBTQIA+ community.
• Jonathon Burford is Creative Director at Follow Beauty where they help create and launch beauty (makeup) brands. Buford is committed to artistry and storytelling to help advocate for the LGBTQIA+ community.
• VolunteerMatch's CEO, Greg Baldwin will also be in the house. Greg's dream in co-founding VolunteerMatch 20+ years ago to connect good people with good causes in the art of community service all across the country and our world remains true today. Since the world was altered by COVID-19, his team has recalibrated VolunteerMatch's services with new tools and solutions to ensure that no community is left behind.
• April Walker, CEO, Walker Wear. Walker is a fashion game-changer and culture shifter that inspired a lane to create a multi-billion industry coined as streetwear today with her brand. Walker is currently featured in the Netflix award winning documentary "The Remix: Hip Hop X Fashion."
• Sean Smith, Celebrity Stylist & Filmmaker. A former celebrity fashion stylist for Usher, Rihanna, Mariah Carey and others. Sean is the first Latina ever awarded the George Lucas Family Foundation Scholarship at The University of Southern California. She uses her passion for fashion and film to advocate for the Latinx community.
• Rashan Schoffner is an artist and rising sophomore at Howard University. Truth and Service is the school's motto and Rashan's way of life. His artwork has been displayed at The Center for Civil and Human Rights in Atlanta. He was the only Howard University student selected to participate in the Cross Colours (fashion brand) HBCU content creator program--a feature article was published in PAPER Magazine. He is passionate about using fashion and the arts (film especially) as tools to promote social justice.

Thu 4/22 Art as Activism: The Creative Call to Action, hosted by R&B artist, Raheem DeVaughn, recently featured in Rolling Stone magazine for his song, "Marvin Used to Say." The video pays tribute to the work of a series of activists and civil rights leaders. Raheem is known for his charity work. In 2011, the District of Columbia awarded him the Key to the City for his commitment to service. He fights for causes related to women's rights, domestic violence prevention, education, and HIV/AIDS awareness. He has a partnership with the AIDS Healthcare Foundation (AHF), among others. (Stay tuned for when Raheem hosts VolunteerMatch Chief Solutions Officer Laura Plato on Clubhouse.)

Panelists include:
• Anthony Demby, founder of HumbleRIOT, an organization that utilizes music to create intentional experiences and tell compelling stories. Anthony is responsible for much of Childish Gambino's success. He develops music strategy for brands like Soho House and Google.
• DJ Agana, April's featured artist for VolunteerMatch's Match Studio Collaborative, is an internationally acclaimed multi-dimensional contemporary mural artist who weaves common social threads throughout her work.
• DL Warfield is a prolific visual artist who, for decades, has existed at the cutting edge of creativity. DL is known for his fine art and his American Flag remix that is exhibited at the Mercedes Benz stadium in Atlanta and Ford Motor Company.
• Nicole Cooke-Johnson, CEO, The Royalty Firm, LLC and the granddaughter of singer/songwriter, Sam Cooke, most famous for his hit, "A Change Is Gonna Come." This song has regained popularity due to recent political and social unrest in the U.S., and the recent Regina King movie, One Night in Miami. Nicole is launching the Sam Cooke Change Makers initiative that highlights people who use their platform to inspire and create change.
• Laura Plato, Chief Solutions Officer, VolunteerMatch. Since Laura hit the ground running at VolunteerMatch only 1.5 years ago, she has spearheaded strategic partnerships with Apple, ABC/Disney, and Cumulus Media that benefit grassroots nonprofits. Her other creative collaborations – the VolunteerMatch Influence Fund and the Coalition for Volunteer Impact – leverage multimillion dollar investments and cross-sector data to increase capacity for Black and Brown-led nonprofits and lead the way to understand COVID-19's impact on volunteering.
•Kahane Cooperman and John Hoffman, producers of THE ANTIDOTE a film made in response to the times we are living in, THE ANTIDOTE weaves together stories of kindness, decency, and the power of community in America.

Fri 4/23 Books for a Better World – National Volunteer Week 2021 Book List. Readers were excited and empowered by last year's list; let's see what this year's lineup has in store.

Visit VolunteerMatch's dedicated hub for more information, to mark your calendars, and plan your participation: http://info.volunteermatch.org/nationalvolunteerweek

Then follow VolunteerMatch on Facebook to remain current with updates and other activities: https://www.facebook.com/VolunteerMatch

About VolunteerMatch

Founded in 1998, VolunteerMatch is the most effective way to recruit highly qualified volunteers for nonprofits. We are the largest nonprofit network in the world with the most nonprofits and volunteer opportunities. We believe everyone should have the chance to make a difference. That's why we make it easy for good people and good causes to connect. We've connected millions of people with great places to volunteer and helped tens of thousands of organizations better leverage volunteers to create real impact.
Direct link to press release here on 3BL Media here.