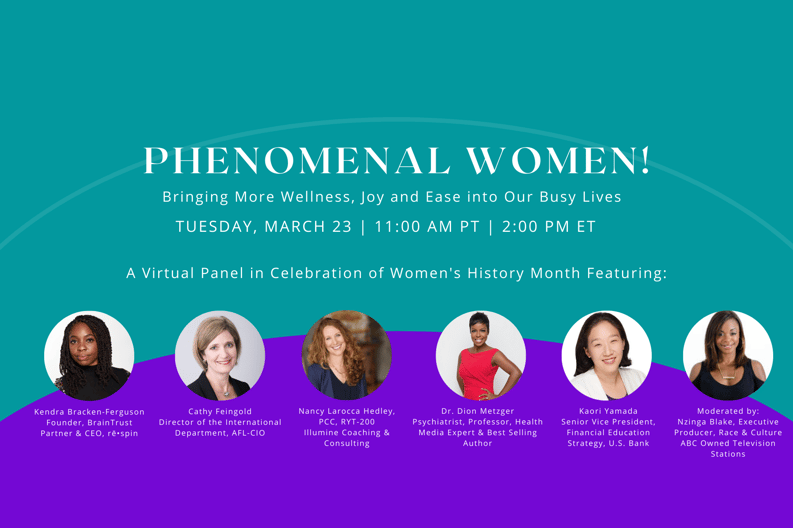 OAKLAND, Calif., March 16, 2021 — In celebration of Women's History Month, VolunteerMatch announced today a virtual panel packed with powerhouse speakers: Phenomenal Women! Bringing More Wellness, Joy and Ease into Our Busy Lives.
With an emphasis on stories of personal leadership journeys, and practical advice and practices for keeping well in the face of uncertain and busy times, the panel will leave audience members inspired, enlivened and encouraged to create more joy, wellness and balance at work and at home.

Speakers include:
Kendra Bracken-Ferguson, Founder of BrainTrust and Co-Founder with Halle Berry of 2020's hottest wellness and beauty brand, rē•spin
Dr. Dion Metzger, Psychiatrist, Professor, Health Media Expert and Best Selling Author
Cathy Feingold, Director of the International Department, AFL-CIO, a leading advocate on global workers' rights issues
Kaori Yamada, Senior Vice President at U.S. Bank who leads financial education improving financial literacy for customers, employees and communities
Nancy Larocca Hedley PCC, RYT-200, Founder of Illumine Coaching & Consulting, inspirational leadership coach whose clients include leading tech companies including Google and eBay
Nzinga Christine Blake, Emmy-Award Winning Executive Producer, Race & Culture, ABC Owned Television Stations, will moderate the panel
Ensuring a focus on women's wellness has never been more important, as women continue to bear the weight of excess pressures due to unique stressors brought on by the pandemic. Based on McKinsey's calculation, women's jobs are 1.8 times more vulnerable to this crisis than men's jobs. While 39 percent of global employment is made of women, they account for 54 percent of overall job losses. And, according to Pew, mothers with small children have lost work at three times the rate of fathers in the pandemic, where mothers of children 12 years old and younger lost 2.2 million jobs compared to 870,000 jobs lost among fathers.

"At work, at home and in their communities, women are multi-tasking superheroes: champions, caretakers, celebrators, and creatives. Particularly during these challenging times, the data is worrisome, and reminds us just how important it is to look within, connect with our sisterhood, and find new ways of taking care of ourselves. At VolunteerMatch, we are proud to present this panel of incredible speakers whose work is, at its core, about wellness — whether it be financial, spiritual, physical, psychological, or professional wellness, or a combination thereof. We're honored to support our global community of prosocial women who, every day, we witness transforming our communities for the better, " said Laura Plato, Chief Solutions Officer at VolunteerMatch.

Phenomenal Women! goes live Tuesday, March 23rd at 11am PT/2pm EST. To sign up go here.

About VolunteerMatch
Founded in 1998, VolunteerMatch is the most effective way to recruit highly qualified volunteers for nonprofits. We are the largest nonprofit network in the world with the most nonprofits and volunteer opportunities. We believe everyone should have the chance to make a difference. That's why we make it easy for good people and good causes to connect. We've connected millions of people with great places to volunteer and helped tens of thousands of organizations better leverage volunteers to create real impact. For more information visit volunteermatch.org.
Direct link to press release on 3BL Media found here.