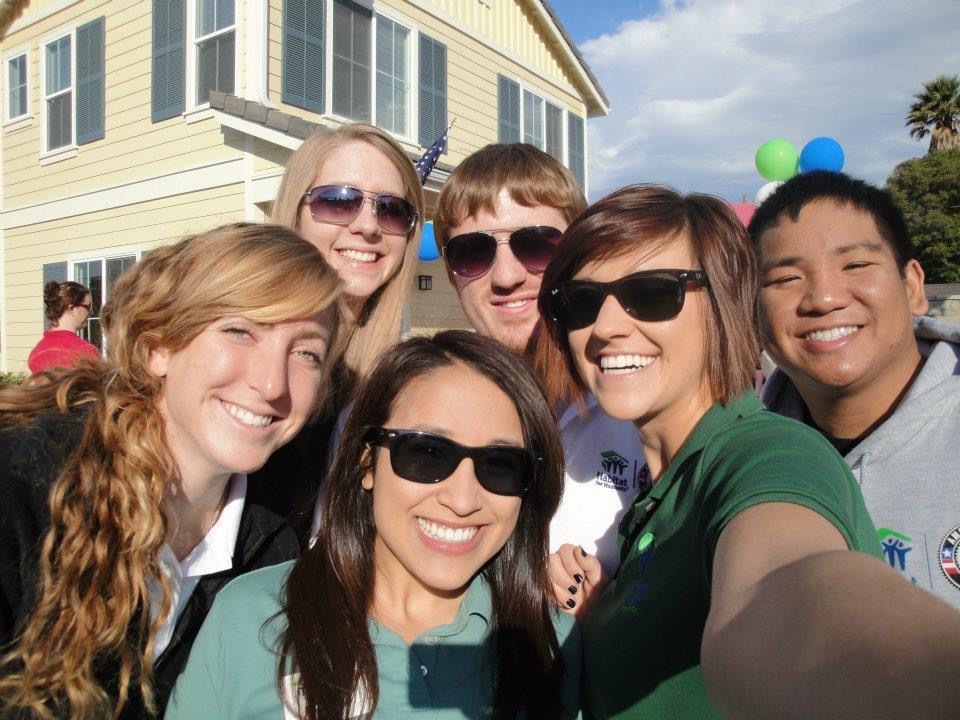 Over 10 years after completing my two years of Service with AmeriCorps I find myself in the unique position of again serving with AmeriCorps, just in a different capacity. At VolunteerMatch, we have partnered with California Volunteers and AmeriCorps to leverage the VolunteerMatch network and team to recruit members and spread awareness.
To celebrate AmeriCorps week, I'd love to share how serving as an AmeriCorps member has impacted my life (long story short, it completely changed the trajectory of my career and how I see the world).
Before graduating from USC with a degree in urban planning and architecture, I spent the majority of my senior year seeking out my first full-time job. Unlike many of my classmates who were planning on going to grad school or working in city government or urban design firms, I knew those traditional paths didn't fit the type of experience I wanted to have.
For four years I had developed the textbook knowledge of how homes are built and theories of urban planning, but I had no understanding of how these ideas became reality. After being exposed to a service project late in my second semester my passion for service and mission-oriented work was initiated.
With this new focus on impact, I set out to find a job that would provide me with this unique overlap of service and hands-on learning. Enter the AmeriCorps program through Habitat for Humanity. After a quick application and interview process, I was offered my dream job.
Over the next eleven months, my growth and learning easily surpassed the culmination of my previous 22 years. As a newly minted Construction Crew leader for Habitat for Humanity Orange County I was given a crash course in everything related to the construction of a home from start to finish. After years of learning how to draft floor plans and develop circulation studies, I was now on the ground building homes with my own hands.
Along with my other AmeriCorps members, we did everything from hand digging the ditches for rough plumbing, to framing the walls, installing the roof tiles, painting, and everything in between. In addition to the construction training, we were also given incredible leadership experience. In order to finish these homes under budget and on time we relied heavily on daily volunteer groups, which as AmeriCorps crew leaders, we were in charge of leading.
Every morning I would be taught a new construction skill and thirty minutes later be asked to demonstrate that skill and manage volunteers performing this skill for the next six hours. While some would assume the lack of continuity between volunteers day today would be a struggle, it actually was an incredible opportunity to connect with more people and share the unique mission of Habitat for Humanity and the AmeriCorps program.
I recently was asked about the most significant moment in my career. While I've had plenty of other jobs since my AmeriCorps term including managing multi-million dollar sales engagements with the largest banks in the world, none of them come close to my formative years with AmeriCorps. To illustrate this, a story and picture are worth a thousand words. The photo above features my other AmeriCorps members, ranging from construction crew leaders to those working in fund development and family services.
In our first three months at Habitat for Humanity we completed the construction of two 4 bedroom two bath homes from start to finish, meeting our December 20th deadline. At our dedication ceremony, the new homeowner, who I had worked beside for all those months, described through tears what a safe home meant to her and her three sons. She also specifically mentioned the hundreds of volunteers from the community and us AmeriCorps members by name.
Together, along with community and corporate volunteers, had partnered to make not just a home, but the opportunity for a better future available to her and her sons.
I consider myself incredibly fortunate to have served as an AmeriCorps member. To be a part of a community of more than 1 million Americrops alumni who have engaged with their communities through service and capacity building. AmeriCorps opportunities are nationwide and involve a wide variety of service opportunities. This can include COVID-19 response, ensuring students stay on track to graduate, hunger and homelessness, response to natural disasters, helping seniors live independently, supporting veterans and military families, and much more. Through AmeriCorps I learned firsthand how life-changing volunteering and service to community can be.
"The best way to find yourself is to lose yourself in the service of others."
—Mahatma Gandhi
#AmeriCorpsWeek

March 13 - March 19, 2022
AmeriCorps Week recognizes the commitment of the millions of Americans who have chosen to serve their country through AmeriCorps and AmeriCorps Seniors.
AmeriCorps engages 250,000 Americans each year in sustained, results-driven service. Volunteers help communities manage COVID-19 response, ensure students stay on track to graduate, combat hunger and homelessness, respond to natural disasters, fight the opioid epidemic, help seniors live independently, support veterans and military families, and much more.