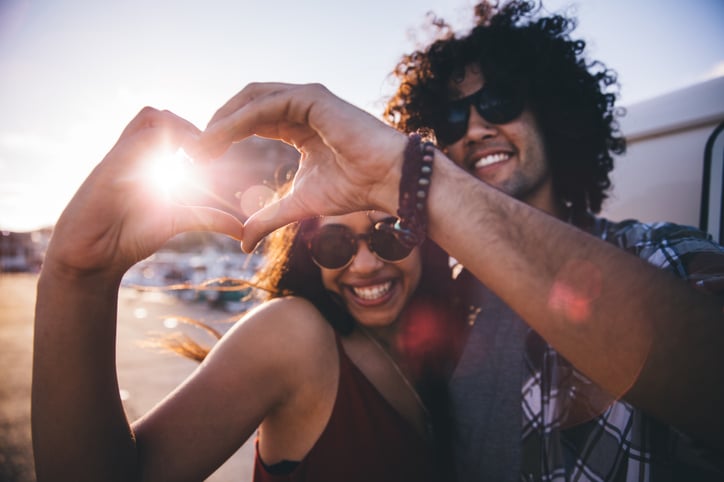 Guest Contributor: Josh Fryday, California Chief Service Officer within the Office of Governor Gavin Newsom.
The Kindhearted Cities Index recognizes the incredible work of volunteers, nonprofits, service members, and community leaders who have embodied the spirit of kindness to give back to communities across the country. Through the Kindhearted Cities index, we can better understand what it is that drives action, change, and impact—and show others how to make a difference. We are beyond thrilled to see six California cities recognized for their efforts, the most of any state.
California is a unique state—from our ocean, mountain, and desert landscapes to Silicon Valley tech innovations to the vast array of cultures represented across our cities, our diversity is reflected throughout the state. Another unique aspect of California is our commitment to service and volunteerism. Under Governor Gavin Newsom's leadership, California has led the nation in developing robust service programs, volunteer initiatives, education campaigns, and new solutions to help solve local, state, and national challenges.
Solving California's greatest challenges is possible when every Californian contributes in the way they can. Every contribution, no matter how large or small, is valued. This philosophy underpins California Volunteers' dedication to harnessing the power of service to solve problems and bridge divides.
At California Volunteers, Office of the Governor, our mission is to engage ALL Californians in giving back. As the largest state AmeriCorps service commission, over 4,500 members provide intensive service at AmeriCorps programs in over 1,000 locations statewide. Through our #CaliforniansForAll partnership with VolunteerMatch, we are connecting more Californians to meaningful opportunities than ever before. And by highlighting actions Californians can take at home or on their own time, we are harnessing the power of kindness to build stronger communities. AmeriCorps members, individual and group volunteers, and neighbors alike continuously collaborate to meet the needs of our diverse communities.
California's unique approach to service and volunteerism, coupled with VolunteerMatch's commitment to connecting volunteers to opportunities, has yielded incredible results for nonprofits and communities in our state. California Volunteers, and our #CaliforniansForAll initiative, helps Californians reconnect to each other, our communities, and our larger, diverse society through service and volunteerism, and together, we are creating a culture of service across our state, where kindness is the core of our efforts.
At the beginning of the COVID-19 pandemic, we were isolated, uncertain, and afraid. A global crisis marked by the ambiguity of what was to come left us bewildered. Among the endless questions we all had, one question out. It was the overwhelming amount of times we heard "What can I do to help?" As COVID ravaged through our state, ICU floors were filled to capacity, and thousands lost jobs and income.
Californians, even in the face of grave uncertainty, illustrated their compassion and kindness. So we got to work channeling that energy into action.
While Californians continued to raise their hands and ensure neighbors and communities had food, medication, and supplies, we collaborated with VolunteerMatch to launch a first-of-its-kind public sector/nonprofit technology partnership, and the #CaliforniansForAll service initiative was born. #CaliforniansForAll goal is to connect Californians with safe volunteer opportunities and encourage those unable to physically volunteer to think creatively about ways to make a difference in their communities during COVID-19.
The #CaliforniansForAll initiative was designed to engage every Californian in service, regardless of how or where they serve. The easy-to-use search tool allows interested Californians to find an opportunity in their area, or virtually, to be of service.
At the beginning of the COVID-19 pandemic, food banks in California experienced a dramatic increase in food demand while the consistent, older, volunteers who once filled food bank warehouses needed to stay home to protect their own and the public's health. The result was that many food banks more than doubled the number of clients served in a single month, with a deficit of volunteers to assist with distribution. One of the many successes of #CaliforniansForAll and our partnership with VolunteerMatch is filling this gap to meet a specific need: getting food and resources to those who need it.
Through the virtual volunteer search platform tool and other supports, food banks were able to recruit healthy volunteers, stabilize their capacity, and meet the needs of their communities. Californians came together to ensure everyone had the access to resources and tools they needed to stay healthy and engaged.
Through our innovative partnership with VolunteerMatch, tens of thousands of Californians connected to an opportunity to give back. Now the #CaliforniansForAll volunteer cadre is an essential part of responding to community needs.
California's culture of service and kindness is illustrated in cities across the state. A critical piece of the civic engagement puzzle is engaging local leaders in modeling the ideas and behaviors we want to see in our communities. California Volunteers' most successful programs are due to local and community leaders valuing kindness, creating opportunities for kindness, and calling on their residents to serve.
In San Jose, ranked #3 on the Kind Hearted Cities Index, individual volunteers, AmeriCorps members, and community leaders work with nonprofits and local government departments to meet local priorities. With the leadership of local officials, like San José Mayor Sam Liccardo, more Californians can help meet not only local goals, but state goals, too.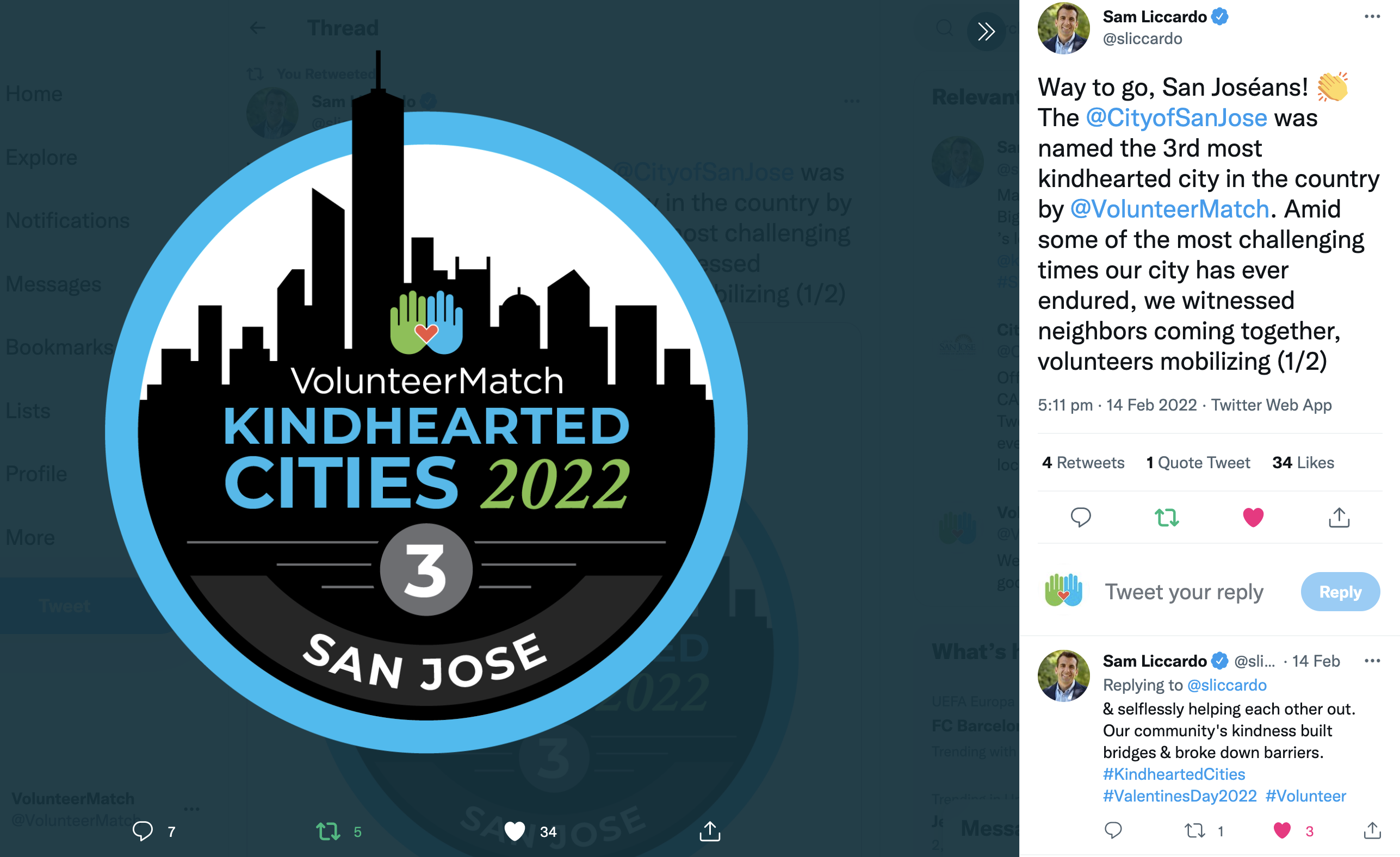 San José is a service community whose values reflect the values of its residents. With local leadership's commitment to these values, like climate action and sustainability, we can work together to make positive impacts. For example, California Climate Action Corps Fellows serving a year at Our City Forest work to offer free resources on tree planting and maintenance, and conduct outreach to educate the community on best urban forestry practices; volunteers work with Fellows to plant trees in the less shaded public areas of the cities; San Joséans make a difference in their own yards by conserving water and planting native species. Making change happens in different, yet connected ways when opportunities, resources, and kindness are present.
While San Jose is unique in its community and needs, like every California city, we see a model of action being replicated throughout the state. In big cities like Los Angeles and San Francisco, in inland communities like Fresno and Bakersfield, and in northern towns like Chico and Redding, Californians are making a difference. And with the Governor and legislature's investments in California Volunteers, we hope every California community will join us in change making and service. When kindness is at the center of how we participate and engage in society, there is nothing we cannot accomplish.
Together, we support our communities in meeting their goals. We support volunteers in channeling their kindness and passion into meaningful action. We support a culture and norm of kindness and reciprocity when we lead with service.
Join us in our effort to engage every Californian in service. California organizations can recruit more volunteers here, and individuals can sign up for #CaliforniansForAll to find a volunteer opportunity.
---
Josh Fryday serves as California Chief Service Officer within the Office of Governor Gavin Newsom to lead service, volunteer, and civic engagement efforts throughout the state. Prior to his appointment, Fryday was President of Golden State Opportunity (GSO), and Chief Operating Officer for NextGen Climate. As an Officer in the United States Navy ('09-'13) Fryday served as a member of the Judge Advocate General's Corps (JAG) and was stationed in the Office of Military Commissions. After receiving his law degree from UC Berkeley School of Law, Fryday clerked in the US Attorney's Office for the Northern District of California, as well as the San Francisco District Attorney's Office for then District Attorney Kamala Harris. Fryday is also the former Mayor of Novato, his hometown.
He currently serves as Board Chair for Demos, a national think-tank focused on issues of economic, racial and political inequality, and is a founding Board Member of Amazon Frontlines, a leading organization to protect indigenous communities and territories in the Amazon. He is married to Mollye Fryday, an educator, and they have three energetic young boys, Shay, Calvin and Tam.