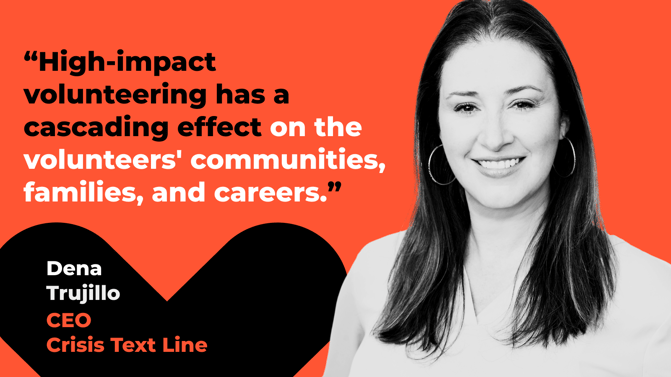 Volunteering: The Gift That Gives Back
Q: Can you tell us about yourself and your organization, Crisis Text Line?
A: Yes. Thank you. I have been the CEO of Crisis Text Line for three years, and it's truly been a privilege to lead such an extraordinary organization that provides free and accessible mental health support through text messages. When we first launched, no one expected people could get substantive help through text. Today, over 9 million text conversations later, we proved it's not only possible but highly effective. Anyone anywhere can receive confidential and non-judgemental support 24/7 from our community of thousands of trained volunteer crisis counselors.
Throughout my career, I've worked to discover and promote innovative models that combine the transformative power of technology and people to create significant social impact. Crisis Text Line is helping to address the national and global mental health crisis and is an incredible example of leveraging everyday technology to empower strangers to support strangers in their greatest moments of need.
Q: What role do volunteers play at Crisis Text Line?
A: Our volunteers are true heroes! They are on the front lines providing essential mental health support to individuals in need day and night. Over the last decade, our volunteers have collectively donated 340 years of time to help individuals in mental and emotional crisis by offering empathy, guidance and hope. Our volunteers are compassionate individuals who believe in our vision of fostering an empathetic world where nobody feels alone. We have trained more than 65,000 volunteers to bring texters from a hot moment to a cool calm through non-judgmental support, helping texters tap into their own strength and co-create coping strategies. Together with our dedicated volunteers we are saving and changing thousands of lives every day.
Q: Can you tell us more about Crisis Text Line's latest research, "Volunteer Voices: The Impact of Volunteering at Crisis Text Line"?
A: I'd love to. For years, our volunteers have been telling us how they use the skills they learn through Crisis Text Line to support people in their daily lives. They tell us about helping to de-escalate a stranger struggling at a supermarket, or supporting their children being bullied at school, or friends going through parenting challenges. We have heard so many stories we knew we needed to learn more about the impact that volunteering had on their lives. The results from our recent volunteer survey are clear: volunteering with us has a profound positive ripple effect on their communities, families, careers and society. As an example, 90% of our volunteers feel we provided them with skills to support people in need of mental health support outside of volunteering. Our volunteers are utilizing the skills they learn with us in their personal and professional lives, which opens up new opportunities and career pathways for many. Our volunteers take better care of their own mental health, feel less alone and are better connected to their communities.
Q: How does Crisis Text Line utilize VolunteerMatch?
A: VolunteerMatch is an integral partner in recruiting our amazing Crisis Counselors. We are constantly seeking individuals to join our volunteer community. Recently we've also seen an increase in Spanish-speaking volunteers coming to us through VolunteerMatch, which is truly exciting. We love working with VolunteerMatch and look forward to expanding our partnership. This is just the beginning.
_____________________
If you are experiencing emotional distress or mental health challenges, please text HELLO to 741741 or 443-SUPPORT in WhatsApp to be connected to a live, trained non-judgmental volunteer Crisis Counselor or text HOLA to 741741 or 442-AYUDAME in WhatsApp for Spanish or connect with us via web chat.