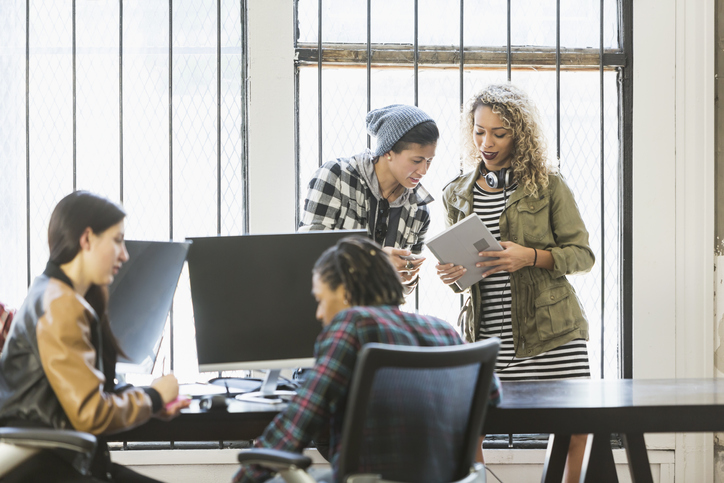 Yesterday, we started off the week considering the spirit of service and honoring the legacy of Dr. Martin Luther King, Jr. as individuals, with the inspirational video of his, "I Have a Dream" speech. We focused on the magnitude of greatness that individuals can create when we come together around a cause and the power we all have in us to drive real change.
Today, when people come together around a movement, technology, and in particular, technology that encourages creative, boundaryless collaboration plays a major role.
How can we use technology to work together to infuse volunteering into our universal DNA? We, as individuals, have the power to not only make a difference, but also to inspire through our actions. Whether that's with our families or friends or our co-workers, we're coming together -- often online -- to make the change we want to see a reality. Perhaps nowhere has this change become more apparent during the last decade than at work.
At a larger scale than ever before, companies are empowering their workforces to do more good in their communities. They understand the positive impact that comes from giving employees the opportunity to make a difference. In fact, according to the Deloitte Volunteerism Impact Survey, 89% of employees believe that companies who provide volunteer activities offer a better overall working environment than those who do not.
At VolunteerMatch, we believe everyone should have the chance to make a difference, whether it's in the office, within their local communities, or from home. It's core to who we are. That's why we're excited to have announced this week our new partnership with Benevity, the global leader in corporate social responsibility (CSR) and employee engagement software. With an employee base of 12 million users around the world, Benevity will be providing the VolunteerMatch Open Network within their existing CSR programs, adding over 4.5 million volunteer opportunities to the approximately 3 million opportunities currently in Benevity's Spark product. This will give them the most choice in the industry, helping companies scale their volunteering programs.
Over 60% of volunteer opportunities in the VolunteerMatch Network are skills-based, with opportunities offered in every US zip code and growing internationally. Benevity clients can now offer even more volunteer opportunities to their people, including local and virtual opportunities, skills-based activities, and board leadership roles. Through Benevity's all-in-one employee engagement solution, which includes volunteering, giving, and positive actions, companies can inspire more people to participate in purpose-driven initiatives and deliver meaningful impact for causes, communities and people.
At VolunteerMatch, we constantly aim to find inspirational ways to connect the talent of the business sector with the needs of the social sector. We recognize that to make the greatest impact at scale, we need to find innovative ways to partner together as individuals, co-workers and organizations and harness the power of technology to get to results faster. It's one of the reasons we've committed to forging new partnerships that allow us to serve companies and individuals better. It's a major part of how we reach our vision of being a universal platform that strengthens the ethos and impact of volunteering at massive scale.
During this week of service, what can you do to encourage collaboration and bring more compassion to the world as a part of a team? How might technology play a role -- at home, or at work -- in how you scale your own positive social impact?
Don't know where to begin? With over 4.9M volunteers needed in 29 distinct cause areas on VolunteerMatch, you decide how you want to make a difference.