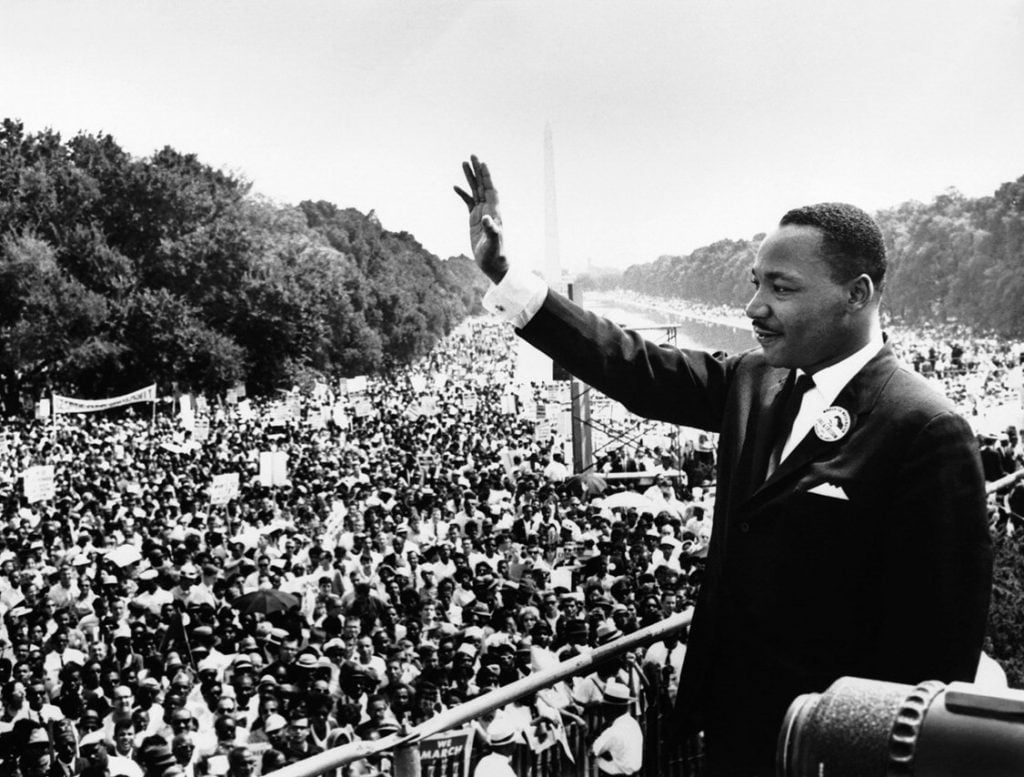 Martin Luther King Jr. Day, January 20, 2020, marks the 25th anniversary of the federal day of service and celebrates the legacy of the great civil rights leader. It's the only federal holiday marked as a national day of service in the U.S., with the stated goal of encouraging all to volunteer and do their part to improve the communities in which we live.
At VolunteerMatch, it's a hallmark day that inspires us for the rest of the year. It's a day that serves as a north star for us as team members as we kick off another year being of service to the amazing nonprofits, volunteers and corporate partners we work with all year round.
On our team, we regularly ask the question, "How can I be of greatest service?" Today, we extend that question to each of you. How could you make today a day of service? And how might today serve as inspiration for a year-round commitment to your community?
Remember: No act of service is too small.
Dr. King understood this and inspires us daily to start where we are. He understood the power of greatness lived within each of us: "Everybody can be great," he said, "Because anybody can serve."
One of the most stirring ways Dr. King translated his vision for our true human potential can be seen in his "I Have a Dream" speech, which we're including below so you can also be inspired by it.
One of our team members shared a special tradition with me today: each year he watches this speech with his family and together they use this as fuel for dreaming and taking positive, socially conscious action. What a powerful tradition to honor this special day and inspire yourself -- and the next generation -- to make the world a better place.
If you're looking for a place to start, the nonprofits we serve at VolunteerMatch have made available over 4.9 million opportunities to serve. Over 25,000 of those are tagged with the hash #MLKDay and many are virtual. Wherever you are, you'll be able to find opportunities to volunteer in your area with others who are celebrating Dr. King's life and teachings all year round.
What's one step can you take today to honor Dr. King's teachings? Perhaps it's participating in a volunteer event or inspiring a friend or colleague to consider serving on a nonprofit board? Perhaps it's something that takes less than one minute, like signing a petition or signing up to join a march? Maybe it's even just putting on paper one idea for how you might be able to contribute to your community throughout the whole year in your own uniquely significant way. Whatever feels right for you, consider what you may be able to do to honor Dr. King's legacy and to be of service in 2020.
Remember: A life's legacy is made of moments, and, as another dear friend and colleague once taught me, moments are powerful because moments become movements.
This week, VolunteerMatch will celebrate and honor Dr. King's legacy with a special #impact blog series highlighting some of the organizations and individuals we partner with who continue to inspire us through their innovative approaches to the field of social impact and lasting social change.
Each of us has the power to make lasting change through our own grassroots efforts. Dr. Martin Luther King, Jr. brought people together around a common cause -- one we're still honoring and fighting for in the U.S., and around the world, today. We live in a time where small actions can make a big difference quickly. How can you influence change through action?
Check out our blog this week for more inspirational stories and connect with us on social media to share how you're planning to be of service in 2020.