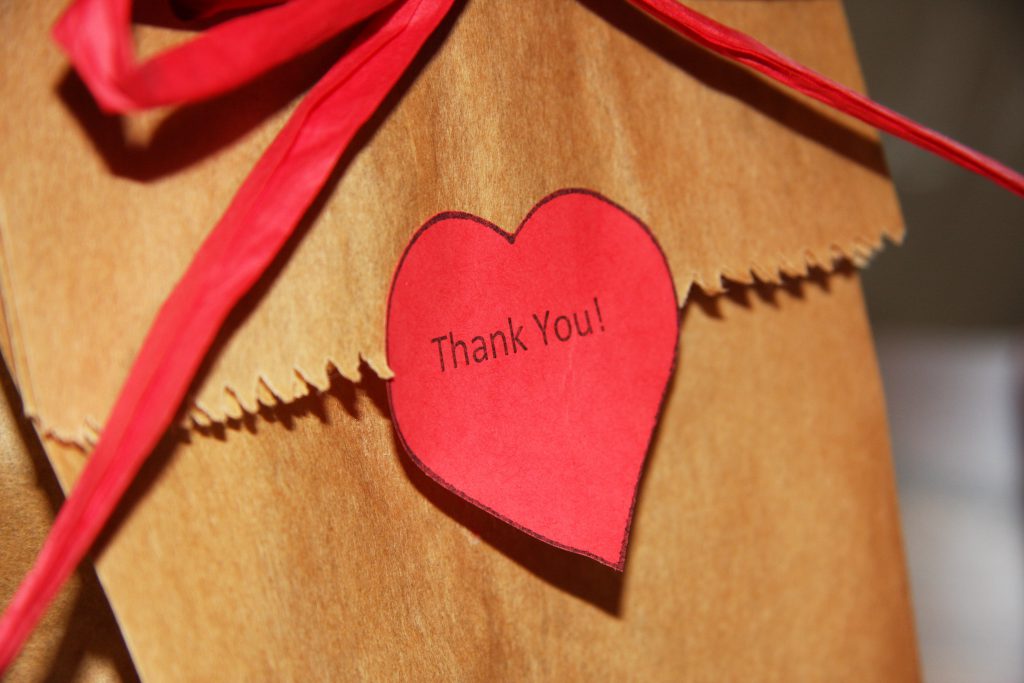 Making change happen requires a large network of people working together to get the job done. It takes a big team to accomplish your organization's goals, and while your employees contribute valuable mission-driven work every day, so do your volunteers!
While most volunteers devote their time to nonprofits because they're passionate about a cause or interested in the organization's work, their dedication and motivation may wane if they don't feel appreciated. As a leader of volunteers, it's important to create systems for recognizing your volunteers to show your thanks for their enthusiasm and to encourage their hard work.
Need some inspiration? Give these seven simple volunteer recognition strategies a try!
1. Send Personal Thank-You Emails
Sending personalized emails to volunteers is an excellent, low-cost way to let them know you appreciate what they do. Reach out to their supervisor so you can include specifics on how they rock their job – when it comes to recognition, little details go a long way. You can also send out emails to celebrate certain volunteer milestones, like their six-month or one-year anniversary.
This tactic will work especially well at large nonprofits, where you might not get much one-on-one time. Plus, the continued contact will help you deepen relationships with your volunteers and make them feel like they're part of a community.
2. Create A Volunteer Yearbook
Collect pictures from various projects, annual events and holiday parties, and put them together in a volunteer yearbook to celebrate your volunteers' work and highlight special memories. Even if a volunteer can only get involved for a short period, they've likely had a positive impact on your organization and developed friendships while completing their service.
You can easily create yearbooks online with little to no experience. Plus, it's also a fantastic way to share the impact your volunteers have had on your organization's mission.
Yearbooks give volunteers something tangible to reflect on their experience at your nonprofit and the difference they made. And who knows? The good memories may incentivize them to come back!
3. Implement A Kudos System
Everyone knows that if someone "gives you kudos," they're essentially saying that you've done an excellent job. Work this into the way you interact with volunteers by developing a kudos reward system.
Decide how many kudos a person can receive at one time, who can give them out (e.g., managers, supervisors or even other volunteers), who keeps track of them, and how they're earned. At the end of a specified time period, say, a month, contact the top three kudos winners and let them collect prizes. Prizes can be small, like company t-shirts, water bottles, or other swag.
4. Throw A Pizza Party!
There's nothing quite like throwing a party with free food to bring people together and have a good time. When you know a cohort of volunteers will be leaving (e.g., at the end of summer or school semester), throw a pizza party! People will love chowing down on classic comfort food and having the chance to see each other one last time before heading separate ways.
And they don't just have to be goodbye parties! You can also throw pizza parties to appreciate longstanding volunteers, welcome new volunteers or celebrate the completion of a major project.
5. Host An Awards Banquet
If you have the resources, host an awards banquet to show your appreciation. Follow the same premise of a pizza party, except on a more formal scale. Get food catered buffet-style and have everyone dress up for the event. Invite volunteers, their family, staff members and maybe even your clients to attend the dinner and award presentation ceremony. The atmosphere in the room will buzz with anticipation and support, leading to better interpersonal connections and an improved sense of recognition.
Awards could include "Most Enthusiastic," "Most Inspirational" and other themes along those lines. Give away group awards, too, to encourage team bonding and recognize those who work well together.
6. Provide Business Discounts
Did you know nonprofits can provide discounts to employees and volunteers? Depending on the types of services or goods you provide, this could be an excellent way to give back to your volunteers. Send out an anonymous survey to see if people would be interested in the discounts you could provide before officially setting up a discount program.
Pro tip: to keep your gift tax-free, ensure discounts on services are under 20 percent and the gross profit percentage of goods.
7. Draw For Better Parking
Every week, supervisors could nominate a volunteer to get a reserved parking spot right by the front door. This system will be especially exciting if your lot is small and people fight over where they park. Draw randomly for a chance-based thank-you effort, or choose people based on their supervisors' feedback about them.
Volunteers are essential to get nonprofits off the ground and reach their goals. They believe in your cause and want to help make it better, all for no personal reward.
However, volunteers won't stick around forever. To retain exceptional volunteers while attracting new volunteers, try implementing some of these recognition systems. You'll be able to share your appreciation for your volunteers easily, so they feel your organization notices and values their contributions.
Sometimes all a person needs to reignite their passion for their job and stick around longer is a simple thank you. These seven strategies will keep the gratitude going without seeming impersonal or fake. See if you can make any of these systems happen in your nonprofit and thank your volunteers today!