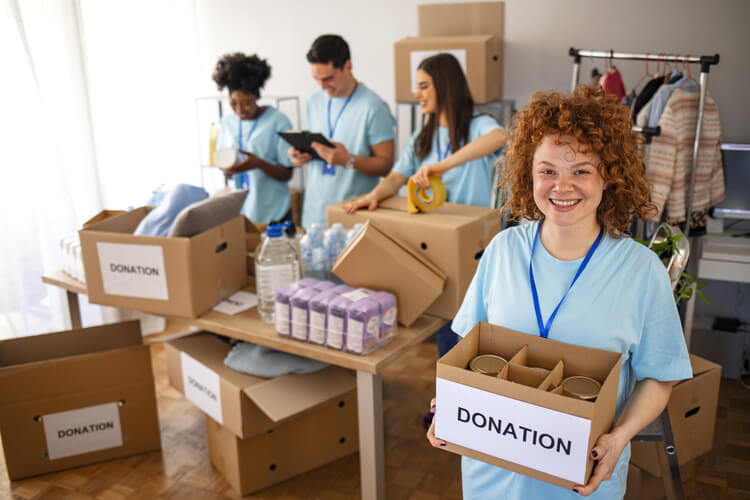 Guest Contributor: Ira Horowitz
Whether they're running a clothing drive, planting trees, or cleaning up after a natural disaster, volunteers make it possible for you to reach as many beneficiaries as possible with your mission. After doing the hard work of recruiting your volunteers, your organization should prioritize building relationships and retaining their support for the long term.
That's where a robust volunteer engagement strategy comes into play—one that encourages individuals to continue signing up for volunteer jobs and excites them about the ways they can do more good in their communities.
Of course, your engagement strategy will involve tasks like optimizing how you run your volunteer program and fine-tuning your approach to inviting volunteers to donate. But did you know that you can also use a well-designed nonprofit website to engage with your volunteers on a regular basis?
That's right—your website can be an effective tool for communicating with your current volunteers, sharing the program's impact on your mission, recognizing your volunteers' contributions, and even recruiting more people to your program. Let's dive into three ways you can engage volunteers on your website.
1. Create a volunteer-specific landing page.
The first way you can engage volunteers on your website is to establish an online home for your volunteer program with a volunteer-specific landing page on the site. This page should be easily accessible from your website's main menu and should contain the following elements:
Overview of the volunteer program. Provide a short description of what your volunteer program involves, including examples of typical volunteer opportunities. You can also provide your volunteer director's contact information that volunteers can use to get their questions answered.
Volunteer program registration form: A registration form offers you the opportunity to capture important initial information about new volunteers, like basic contact information and scheduling preferences. After this initial registration form, many nonprofits may choose to vet the individuals through additional steps in the registration process. For instance, you may want to ensure all volunteers are 18 or older or that none of them have a criminal background.
Waivers (as needed): Some volunteering may involve risks, like lifting heavy objects. Mitigate legal liability by working with a legal professional to create a waiver specific to your volunteering program and various events.
Training materials: Your landing page is an excellent place to host training materials, such as videos and written resources, that you require your volunteers to go through prior to taking on specific tasks.
Volunteer portal: You may have volunteer resources like an online scheduling tool or an online directory that you want to keep secure and accessible only to individuals in your program. Make sure to offer access to your volunteer portal on your landing page.
Information about volunteer grants:

Volunteer grants are financial contributions that volunteers' employers give to your organization after an employee has volunteered for a certain amount of time. The trouble is that some employees don't know their employer offers volunteer grants or how to kickstart the process of securing one. Make sure to include a section on your landing page that provides an overview of how volunteer grants work so that your volunteers can take advantage of these opportunities!

Social media sharing tools: You likely already have social media icons on your website that encourage visitors to share your content with their personal networks. Don't neglect to add these to your volunteer landing page, too. Connecting your website to social media platforms can be a great way to get more volunteers.
In addition to hosting important information and resources, your landing page should have a strong design. According to Cornershop Creative's rundown of nonprofit web design best practices, you should ensure that your landing page is accessible for all visitors, optimized for mobile devices, and includes impactful visuals. Handy tools, on top of a great look and feel, will keep your volunteers coming back for more!
2. Frequently update volunteer job postings.
Your nonprofit may need volunteers to regularly fill specific positions (like museum docent or theater usher), or you may have general needs that often change. Either way, let your volunteers know what kind of help you're looking for within volunteer job postings on your website.
Volunteer job postings should include a description of the role, as well as the time commitment, location, and any other necessary information (such as parking details, dress code, or qualifications needed). For example, if you need a team of volunteer lifeguards for your organization's summer pool party, your posting might look something like this:
Volunteer Lifeguards Needed (10 or more): Must be 18 or older, certified as a lifeguard through the Red Cross, and have at least two years of experience. Needed for two-hour shifts on June 3, 2023, for our annual summer pool party.
Similarly, a more general job posting might look like this:
Regular volunteers needed (50 or more): Must be 18 years or older and able to lift 30 pounds. Needed for four-hour shifts on weekdays and Saturdays from January 1-July 31 to help sort clothing and household item donations at our warehouse.
With short, simple volunteer job postings like this on your website, your volunteers can easily find opportunities that they're interested in and that match their skillsets.
To make these job postings useful for both recruiting new volunteers and engaging current volunteers, ensure that you keep them up to date so that your supporters can trust that they're accurate and so you can fill your most pressing volunteering needs.
3. Produce regular blog content about your volunteer program.
The more your volunteers visit your website, the more likely it is that they will regularly interact with your volunteer landing page and browse through your volunteer job postings. Give them a reason to return again and again by creating new content about your volunteer program on a regular basis—through your website's blog!
Here are some examples of the types of blog posts you might write about your program:
Recap of a successful day of volunteering: Offer a rundown of a successful volunteer event, complete with a recap of the day's accomplishments and a few pictures of your team.
Spotlight on a specific volunteer: Interview a volunteer who has a deep passion for your cause, using your post to explain how they found your nonprofit and what they love about volunteering regularly. This type of post can be especially

motivating

for new volunteers, helping them picture their future with your organization.
Feature on corporate partners: If your nonprofit has a

corporate volunteerism arrangement with a local business

, you could create a post where you talk about how your partnership came to be and what you're able to achieve together.
Once you've published a new blog post, make sure to promote it through your organization's newsletter and social media accounts. You can encourage readers to check out your website's other volunteering resources by linking to them in the post.
---
Engaging your nonprofit's volunteers is essential to retaining their support for years to come, and your website can be a useful tool for strengthening your engagement strategy. Start by incorporating our three tips, and, to take your efforts a step further, consider working with a nonprofit web design agency to make your volunteer website assets even better!