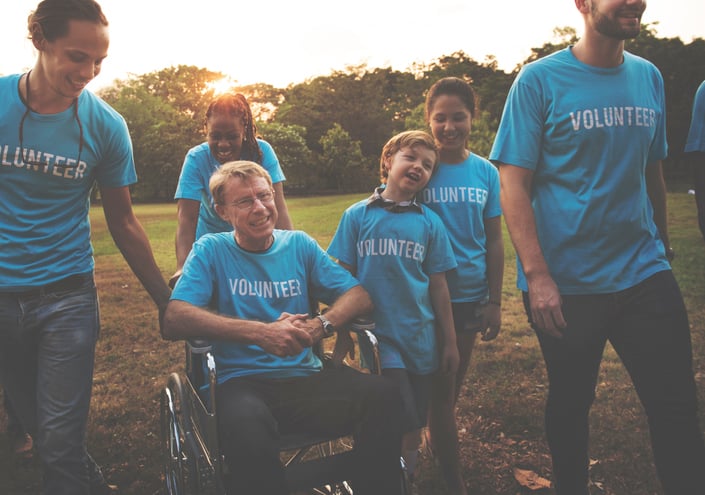 Guest post by Nicole Boyer
It isn't always easy to attract volunteers to help with your cause. There are just so many different nonprofits out there nowadays competing for the same pool of people that it can be hard to find new volunteers.
For that reason, you've got to think outside-the-box: come up with ways that not everybody is leveraging. Not feeling that creative?

Here are few ideas to help you get started.
1. Create a community

Modern internet allows you to create a two-way avenue of communication. You can ask questions and share advice with your audience, sparking conversation. You can share your organization's results and even encourage your followers to help spread your message.

The more you create back-and-forth opportunities to communicate with your audience, the more engaged they'll become. From there, approach those that seem the most engaged and ask them if they'd like to help your organization by giving time.

And presto, you've got more interested volunteers.
2. Be human

We didn't evolve to like companies. We evolved to like people. For that reason, you give your nonprofit a face, a name, a voice, and a personality. This will make it far more likely for you to become recognizable and will make it easier for people to engage with your company.

A great way to boost your personality is to share stories of existing volunteers. Let your audience know a little bit about them. This will make both current volunteers feel good and will help illustrate the human side of your organization to those externally.

And if prospective volunteers who read these stories feel like they've got something in common with them, then they're far more likely to say 'yes' to your request(s) for help. After all, we like people who are similar to ourselves.
3. Create friendly competitions

The first step to recruiting volunteers is to find them. One great way you could do that is to create friendly competitions. For example, you could hold a writing competition where you ask prospects to explore ideas that are in line with the cause your nonprofit is promoting or photo contest, where you ask people to take photos relevant to your idea.

There are countless writers out there looking for inspiration. This might be just what they need to get going. And, in the process of thinking about how they're going to express their ideas, the people that participate in your competition might find that they actually agree with your mission quite strongly.

From there it's a much smaller step to approach them: tell them how much you liked their ideas and ask them if they'd like to help out.
4. Make it quirky
If you can create something fun, interesting and competitive then it's going to spread a lot further and quicker than if you simply pass flyers, for example, to people on the street. In effect, you're creating an opportunity for engagement and a fun way for people to show that they too can take part to help their community.

After that, follow up with a request for help and watch the volunteers come in.
To attract people to your nonprofit, you've got to ensure that you come at them from left field. People are far too used to being approached through regular channels. Besides, they already expect companies to do that.
So don't do that.
Instead, leverage what you've got and what it is that you're contributing: you are making the world a better place and (and this is important) you are having fun doing it.
If you can convince prospective volunteers that this is true, then you're well on your way to attracting new volunteers.
Author Bio: Nicole Boyer is a web designer and contributing blogger for several websites. She is dedicated to making this world a better place. Nicole believes that by helping each other we can go much further.