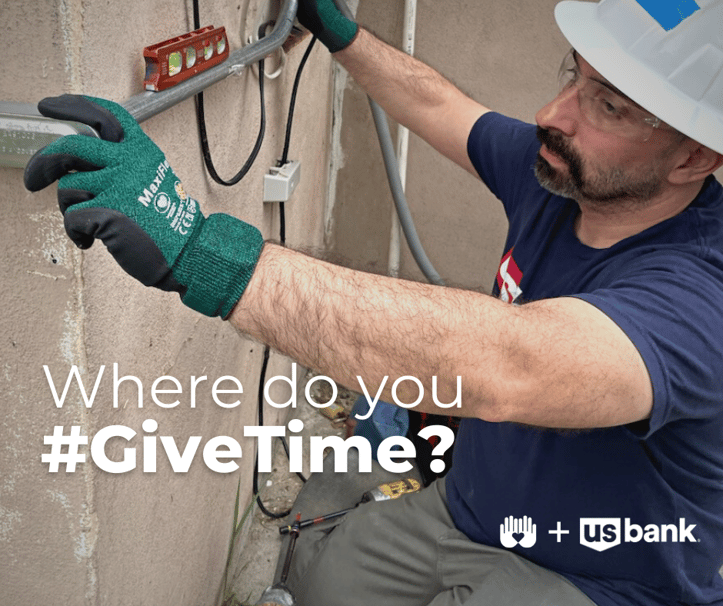 This time of year, there's a lot of talk about annual giving and donating dollars to support the causes you care about, but —like we've done in the past— we're collaborating with U.S. Bank to promote giving time through volunteering.
Often leaders of volunteers will count up volunteer hours and try to come up with a dollar amount to represent that value of volunteer time—but this doesn't do a good job of telling the whole story of impact. Dr. Sue Carter Kahl shares that "Selecting volunteer data based on the needs of those closest to the mission provides a unique way to think about whether volunteer engagement efforts have been successful. It often means we move from volunteer head counts to volunteer accomplishments and relationships."
So what can we talk about when we talk about the real value of a volunteer hour? Let's look at it from the perspective of all involved.
Volunteers: What do volunteers get out of volunteering? Increasingly we hear about the health benefits and how volunteering helps combat loneliness, but that's only part of it. Volunteers also benefit by contributing to a cause they care about and making something better in their community. They might also have an opportunity to build skills or gain professional experience. When we talk about impact to volunteers we want to make sure that we show them how they've made a difference, who they've helped, or how the organization is more effective because they've volunteered. This isn't really about numbers, and we want to make sure that we don't just reward and celebrate the volunteers who have the most time to give. Again, Dr. Carter Kahl reminds us "Don't confuse volunteer hours with meaning. Volunteer volume is not the same as volunteer impact."
Clients/Community: Volunteers are often our organization's representatives in the community, especially when they're working directly with clients. When we talk about the value of volunteers to clients or the community we want to highlight the impact volunteers make. What is different or better because volunteers give their time, talent, and expertise? We might have some numbers to share here— such as how many meals are served or children mentored— but we also have the opportunity to tell the story of impact through our clients. Telling these individual personal stories can really emphasize how important the work of volunteers is to the community.
Organization: When we talk about the value of volunteers to an organization, we tend to highlight the dollar value of the volunteer hours, or how those hours equal the number of full-time staff. But, hopefully, your organization thinks about volunteers as more than just free labor! When we talk about volunteers within our organization we can highlight the way that volunteers specifically contribute to our organization. Many of us who work at nonprofit organizations wear multiple hats and have to juggle a variety of tasks and responsibilities, volunteers can bring a dedicated focus to a project or a role. They can also bring a level of skill or expertise to our organization that goes beyond what paid staff can do.
As we, leaders of volunteers, think about our work and the accomplishments of volunteers in our organization for 2023, and look forward to 2024, consider thinking a little bit differently about the value of volunteers. How can you tell a more complete story of their impact to the volunteers themselves, your clients or community, and to your organization? It might take a little more work but it's worth the effort!
And, thanks to the generosity of U.S. Bank, if you need more support in reimagining the value of volunteering, you can participate in our Giving Tuesday #GiveTime Sweepstakes for a chance to win a 1:1 coaching conversation with me. Participation is easy! Learn more here.