Seattle, Chicago, Los Angeles, and Minneapolis round out the top 5


According to the Independent Sector, 63 million Americans volunteered a whopping 8 billion hours of time, talent and effort spent strengthening local communities in 2018. That got us thinking… if we're given one extra day this year, how and where are Americans most likely to donate their time?
With Leap Day 2020 approaching, we partnered with VolunteerMatch to see which U.S. cities are geared up to do the most good with their extra day -- and we found New York City currently has the most opportunity for fellow do-gooders to make an impact in their community. After New York, the top 10 cities in America with the most volunteer opportunities include: 2. Seattle, 3. Chicago, 4. Los Angeles, 5. Minneapolis, 6. San Francisco, 7. Washington, D.C., 8. San Diego, 9. Houston and 10. Phoenix.
While New Yorkers will be busy, that doesn't mean the rest of us won't be making good use of this extra day! Based on VolunteerMatch's data, we have the potential to add more than 5 million additional hours of volunteering on February 29, 2020 -- creating approximately $128 million worth of value for the social sector.
So what will fellow do-gooders be up to? In our research, we found that Americans volunteer their time to support a wide range of causes -- the top three causes in 2019 being Children & Youth, Health & Medicine and Seniors. You can learn more about the top causes in each of these 10 cities in the infographic below.
At Groupon, our social responsibility mission is to help people and communities thrive -- and volunteers are crucial to that mission. Volunteerism is how we celebrate our shared values by making a difference in neighborhoods of all shapes and sizes. Team Groupon will be getting in on the fun by using the Leap Day to get involved in the communities where we live and work. From Chicago to Phoenix, teammates are gearing up to do good with their extra day.
Luckily, if you're interested in joining us and getting involved in your local community, there are currently 128,000 nonprofits needing more than 5 million volunteers in VolunteerMatch right now. "Our communities are only as strong as we make them. That is why VolunteerMatch is all about creating new possibilities for everyone to put their time and talent to good use," explains Greg Baldwin, President, VolunteerMatch.
No matter where and when, there's always an opportunity to serve. Visit VolunteerMatch to find ways to give back across every zip code in America this Leap Day and beyond.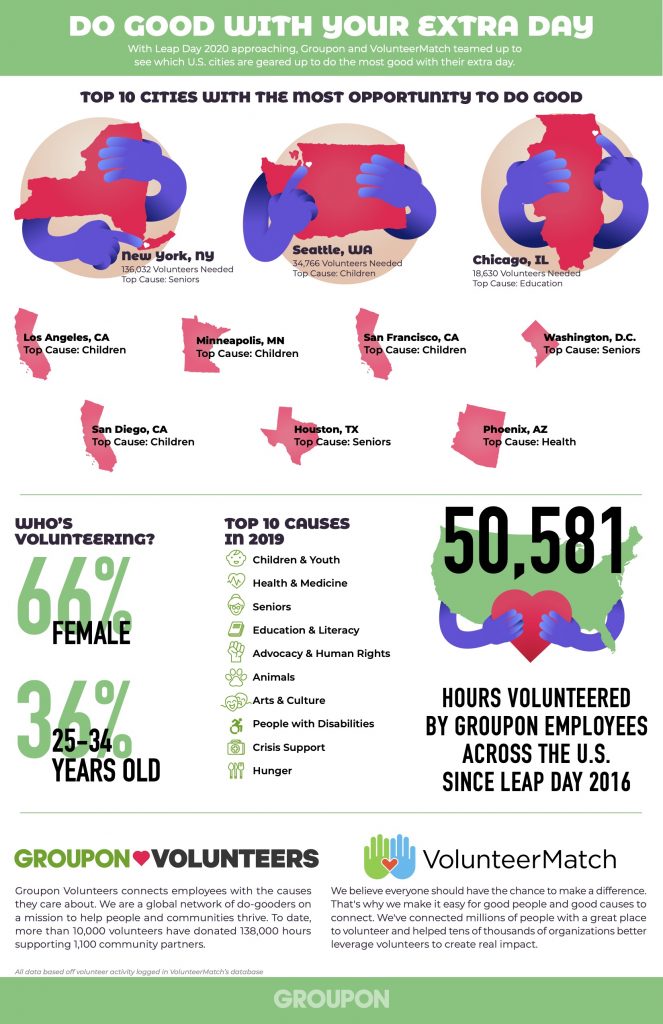 This is a Guest Post by Groupon's Alicia Koch and Dana Van Duerm. We are proud to partner with Groupon to provide this research and encourage more volunteers to spring into action this Leap Day. VolunteerMatch is also proud to count Groupon as one of our inspiring customers!