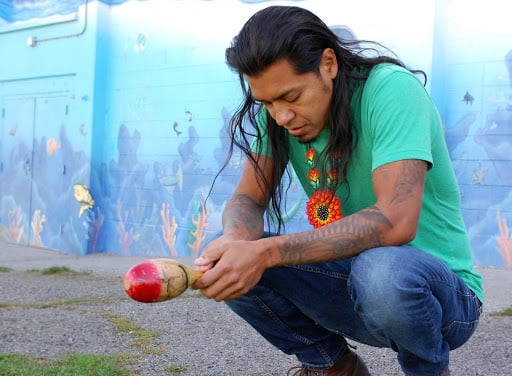 As part of its MLK Day 2021 community activations, VolunteerMatch announces the launch of the Match Studio Collaborative.

Designed to highlight the role of art as advocacy, and advocacy and activism as two key expressions of modern volunteerism, the Collaborative provides a forum for BIPOC artists to produce work that is then reproduced in highly accessible formats to fundraise towards a meaningful cause of each featured artist's choice. The Collaborative enables personal storytelling and amplification of diverse voices through VolunteerMatch's national media platform and social channels. Featured artists will be announced each month in 2021, and the Collaborative does still have openings for independent artists passionate about social justice causes and wishing to apply.

"Advocacy and activism have always been central to art, and art has always been central to social justice. We recognize and value artistic expression tied to a strong social message as a critical form of modern volunteering. With the Match Studio Collaborative, we seek to further extend our own commitment to raising the national media profile of BIPOC artists and nonprofits dedicated to BIPOC causes, and offer a safe space for artistic expression tied to the values of justice, unity, and compassion," said Laura Plato, Chief Solutions Officer, VolunteerMatch.

Thanks to private philanthropic support, each featured artist is eligible to receive a stipend of between $500 and $1000 to help with the development of their original work produced through the Collaborative in 2021. Projects typically include a combination of original visual art, video, live spoken word, music and performance events and are reproduced and made available as fundraisers through VolunteerMatch's online channels.

January's featured artist is Sana Sana, a multidisciplinary artist of Purepecha descent who works in the mediums of ink, paint, spoken word, and lyrical execution. A passionate advocate against the cruelty migrants experience at the border, he is especially disturbed by the maltreatment of children and the harsh human rights violations against migrant women's reproductive rights. He has chosen Free Our Neighbors as the recipient of funds for his original Match Collaborative work, as a reflection of his commitment to this cause.

"At VolunteerMatch, we see the urgency to continually act and think differently about how we help nonprofits, volunteers, and businesses make a positive impact in their communities. We are deeply honored to be in a position to launch this Collaborative and help support both the artists and their causes at a time when so much in-person art has been cancelled and the demand for nonprofit services continues to expand rapidly," said Plato.

For more information about Match Studio Collaborative and to Shop to Donate visit: https://info.volunteermatch.org/matchstudio

To respond to the Call for Independent Artists, please email: news@volunteermatch.org

About VolunteerMatch

Founded in 1998, VolunteerMatch is the most effective way to recruit highly qualified volunteers for nonprofits. We are the largest nonprofit network in the world with the most nonprofits and volunteer opportunities. We believe everyone should have the chance to make a difference. That's why we make it easy for good people and good causes to connect. We've connected millions of people with great places to volunteer and helped tens of thousands of organizations better leverage volunteers to create real impact. For more information visit www.volunteermatch.org.
Direct link to press release on 3BL Media found here.