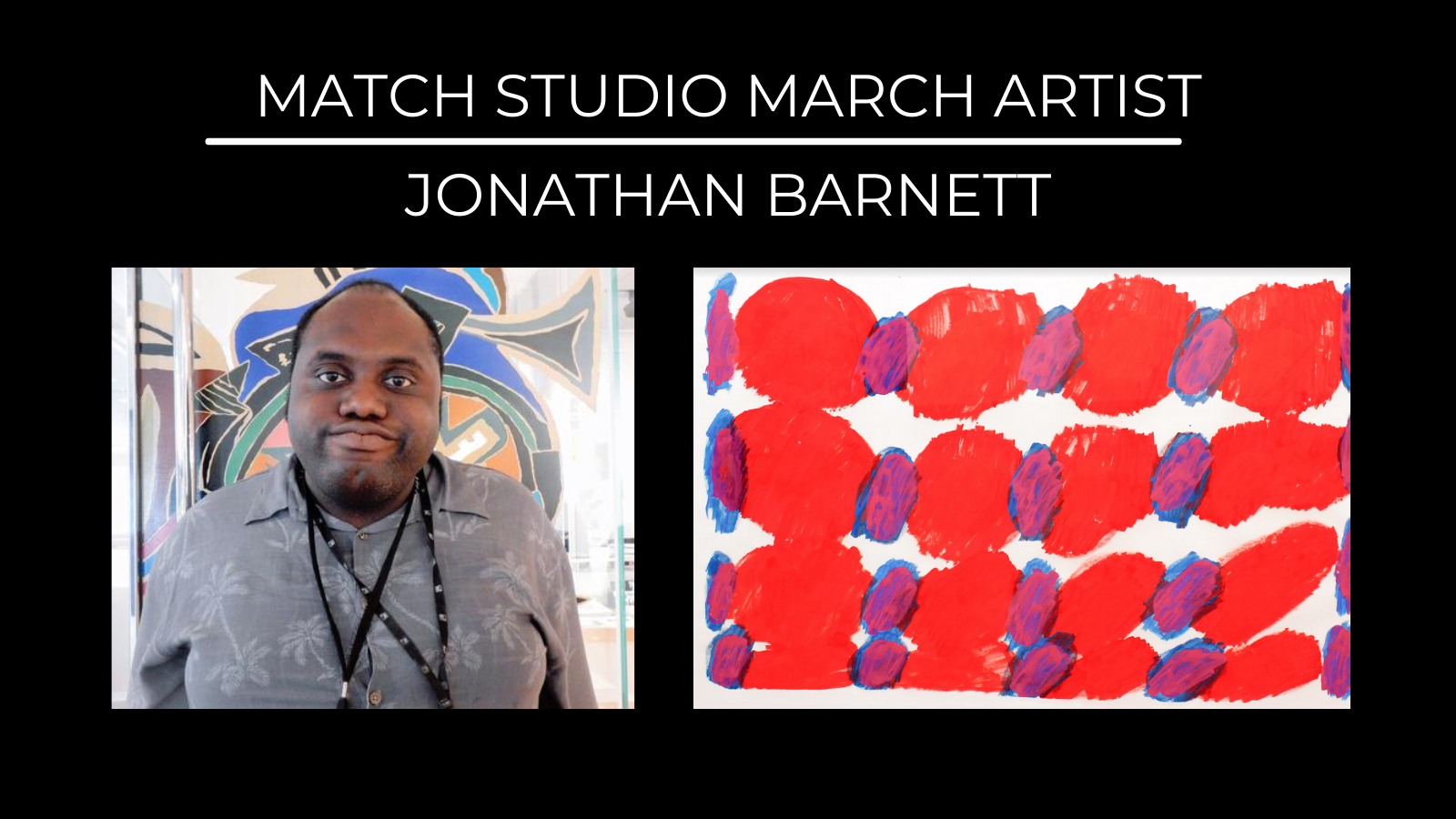 Every month, VolunteerMatch's Match Studio Collaborative features an independent artist and cause, highlighting advocacy as art. Artists produce work that is then reproduced in highly accessible formats to fundraise towards a meaningful cause of each featured artist's choice.
March's artist, Jonathan Barnett, produces a large variety of art including, drawings, paintings, and sculptures with unique patterns. Click here to his collection on the Soul Studio website.
Grab the merchandising featuring his art!
Speaking of Soul Studio, I would like to share a bit of information on the cause, including some info from a volunteer coordinator, Shelby Lonnerstater. Soul Studio - a part of Friendship Circle - is an organization that works to help independent adult artists with special needs get their art and creativity out into the world. The work that the participants create are all featured in Soul Studio's indoor and outdoor exhibits. Check out the Soul Studio artists, including Jonathan and the work that they have created.
Below are the questions that I asked volunteer coordinator, Shelby Lonnerstater and her answers:
What inspires the work that you guys do?
A: Friendship Circle's mission is to create friendship in the lives of individuals with special needs and those facing isolation while providing an opportunity to become a contributing member of the community.
As adults with special needs transition out of the school system and into adulthood, many individuals and their families are in need of opportunities to build confidence, have a sense of community, and gain a sense of purpose. Friendship Circle's Soul Studio helps to fill this need.
What inspired the name "Soul Studio?"
A: Friendship Circle is founded upon the idea that within each person is a soul; and that soul is equal and worthy of boundless love. With this inspiration, the lives of the families we serve are enhanced while the volunteers reap the rewards of selfless giving.
How do artists learn of the program?
A: Many of our artists have been involved with Friendship Circle for years and started out attending programs with us as children. We also partner with organizations with similar goals of providing vocational opportunities to adults with special needs. Additionally, our famous purple Friendship Circle bumper sticker can be seen on cars throughout the entire metro-Detroit area (and beyond!) and creates a lot of word of mouth throughout the community.
What different forms of art do some of the artists create (ie. drawings, paintings)?
A: At Soul Studio, artists are able to practice mediums including mixed media (drawing, painting, sculptural work), ceramics, fibers and woodshop. Many of our participating artists practice multiple mediums of art. Project ideas are driven by the participating artist, and professional facilitating artists on staff guide and support these project ideas into becoming a reality.
How has the cause benefited individual artists so far?
A: Our program benefits our artists in many ways- artists feel a sense of pride and confidence as their artwork is recognized and purchased in our professionally curated gallery and online store. Through sales, artists are able to earn a commission for their artwork. Additionally, our artists gain a sense of community when they walk through our doors — it's truly a place where everyone belongs.
---
Get your merchandise featuring Jonathan's artwork!
---