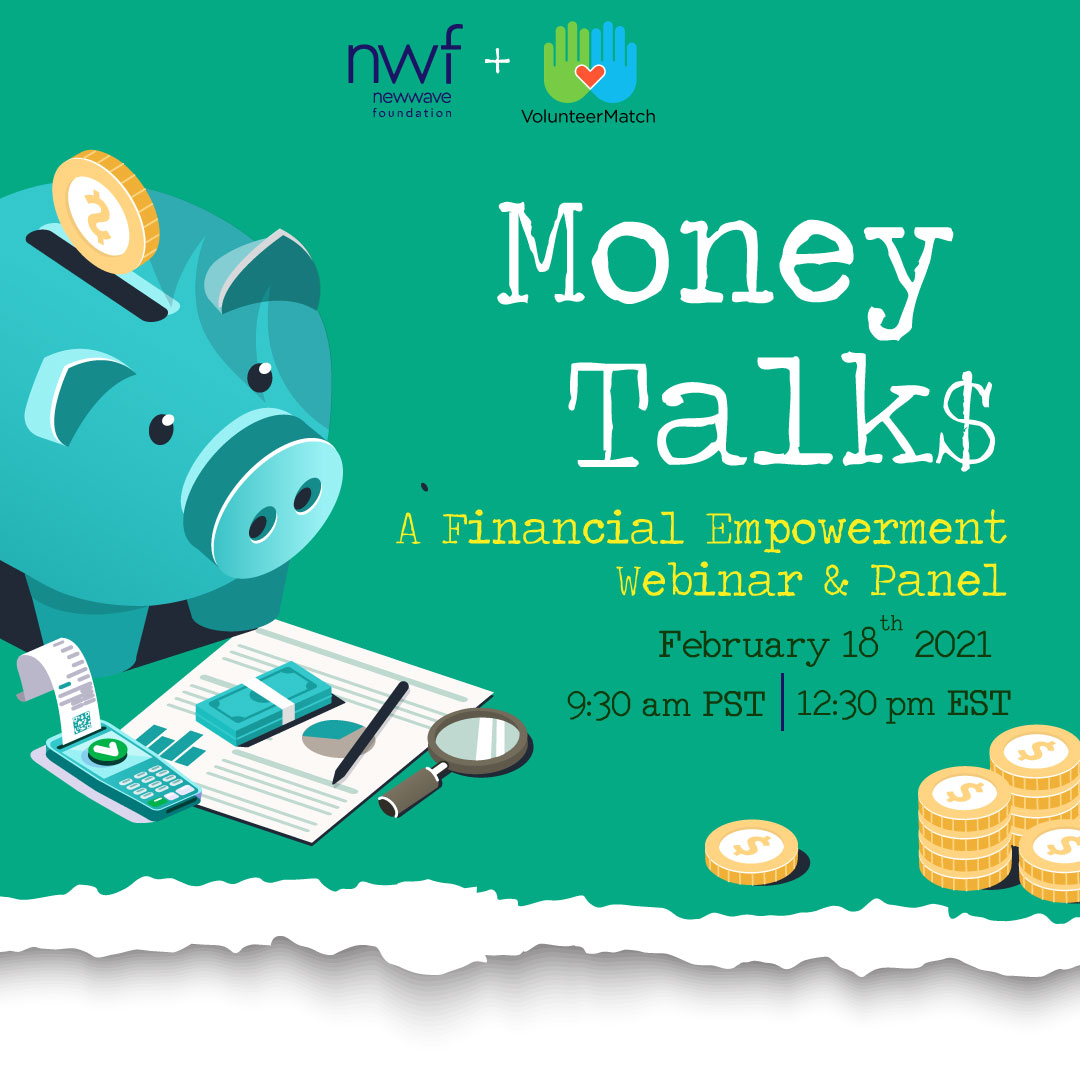 OAKLAND, Calif., February 2, 2021 — VolunteerMatch and Newwave Foundation are pleased to announce the launch of their new financial literacy educational series, "Money Talk$".

The series plays a role in developing financial wellness and bridging the information gap for communities of color left behind by current educational practices. This need is particularly urgent within the Black community where, according to a 2020 study on the Personal Finance Index (P-Fin Index), only 38% of African Americans were able to correctly answer a financial literacy questionnaire, compared to 55% of white respondents.

In celebration of Black History Month, Money Talk$ launches February 18, 2020 with an all-female panel of leading Black financial experts and entrepreneurs: award-winning financial educator Tiffany "The Budgetnista" Aliche; Lorine Pendleton, one of Black Enterprise's "20 Angel Investors You Should Know"; and, renowned Trade & Travel entrepreneur, Teri Ijeoma. The panel moderator is two-time Emmy Award-winning producer Nzinga Christine Blake.
Panelists will share their personal stories of their journeys to financial health, while offering tips and principles that underpin financial clarity, decision-making, and ultimately, success.
"I believe that the lack of financial literacy is one of the premier issues facing today's generation, especially in the African American community. Our kids aren't learning how to properly manage their money in school, and are barely getting the message at home. That is where forums like our upcoming webinar Money Talk$ plays a crucial role in helping to bridge the financial learning gap, and consequently increase economic empowerment," said Sherifah Munis, Founder and Executive Director at Newwave Foundation.
"At VolunteerMatch, every day, we witness the commitment of prosocial young people to transforming our communities and our world for the better. Financial wellness is a critical component to a more equitable and just society — and key to ensuring that at the individual level, that early commitment to living life as a changemaker can flourish and bloom," said Laura Plato, Chief Solutions Officer at VolunteerMatch. "We are honored for the opportunity to partner with Sherifah Munis, Newwave Foundation, and this incredible group of panelists to bring to life this educational opportunity."

MoneyTalk$ goes live Thursday, February 18th at 9:30am PT/12:30pm EST. To register go here.

About VolunteerMatch
Founded in 1998, VolunteerMatch is the most effective way to recruit highly qualified volunteers for nonprofits. We are the largest nonprofit network in the world with the most nonprofits and volunteer opportunities. We believe everyone should have the chance to make a difference. That's why we make it easy for good people and good causes to connect. We've connected millions of people with great places to volunteer and helped tens of thousands of organizations better leverage volunteers to create real impact. For more information visit volunteermatch.org.
About Newwave Foundation
Founded in 2015, the Newwave Foundation (NWF) is an organization of passionate dreamers and achievers on a mission to equalize the educational playing field for students who deserve a shot at their own success. We work to achieve this goal through partnerships with like-minded organizations to provide scholarship opportunities, educational workshops and hands-on learning events. Our core belief is to inspire the next generation of dreamers to rise to their highest potential. We believe that the only way to go is UP.
Direct link to press release on 3BL Media found here.