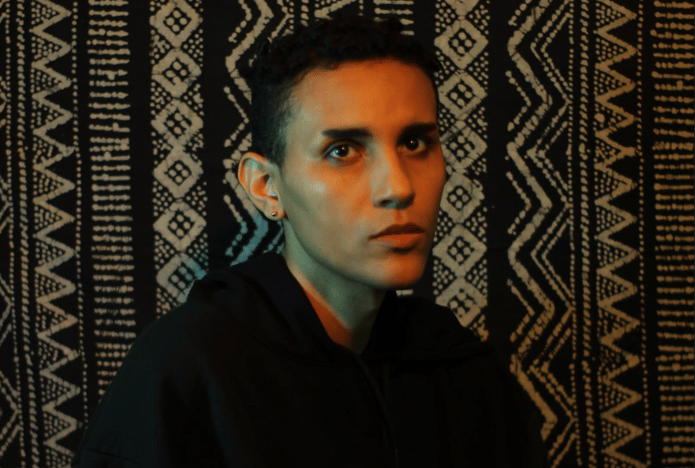 Lena Gray, Artist.
Charlotte, N.C. based artist and musician, Lena Gray is May's Match Studio Collaborative artist. She began pursuing art as a method of expressing her gender transition. Originally a graphic designer, Lena uses her knowledge of digital media to create illustrations and paintings that provide empowering and reflective imagery of trans people of color that is often absent in popular media.
Match Studio Collaborative: Advocacy as Art
VolunteerMatch's Match Studio Collaborative features independent artists and causes, highlighting advocacy as art. The Collaborative provides a forum for artists of color to produce work that is then reproduced in highly accessible formats to fundraise towards a meaningful cause of each featured artist's choice.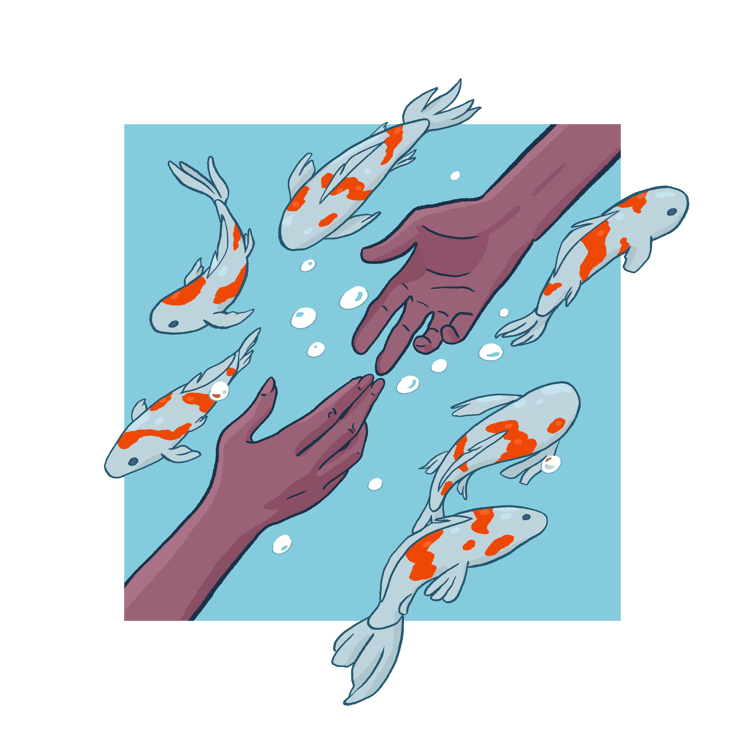 Lena's Match Studio Piece
Lena Gray's Match Studio work features a hand lifting someone from the water, and includes symbolic koi fish. When describing why she selected the symbol of the koi she said, "The pattern of colors really spoke to me, and when I read more about them I learned that they are often used in art to symbolize strength and perseverance."
She has chosen Trans Lifeline as the recipient of funds for her original Match Studio Collaborative work. Trans Lifeline is a grassroots hotline and microgrants non-profit organization offering direct emotional and financial support to trans people in crisis – for the trans community, by the trans community.
"As we honor Mental Health Awareness Month this May, I'm especially grateful to Lena Gray for allowing us to feature her and her artwork. She uses her creativity as a force for self-expression, and then turns the brush to uplift others. By centering underrepresented voices and experiences, she helps us re-weave the fabric of a healthy community. Over the last year, we have seen just how crucial it is to be a source of hope for one another. There are so many possibilities to make a difference in each other's lives, and Lena's hope-filled work reminds us that very often, a hand up versus a hand out, makes all the difference," said Laura Plato, Chief Solutions Officer at VolunteerMatch.
Grab the gear featuring her art!
To learn more what inspires her, why she uses art for storytelling and what she is working on next, we asked her some questions.
Q:
What inspired you to get into art?
A: I started to pursue art more seriously when I began my transition as a trans woman. Art became a method to explore my gender and create the type of representation I wanted to see more of.
Q:
What made you want to use your art to tell a story?
A: Once I noticed my art becoming more visible, I felt a responsibility to put more thought into its narrative. My hope is that I can create imagery that can positively affect trans people of color while giving me the platform to spread awareness about the systemic issues we face such as lack of proper healthcare, economic disadvantages, and violence, which can all exacerbate mental health issues.
Q:
Who has been an important mentor to you in your life?
A: My mom is also an artist, and she has always been my biggest source of inspiration. She taught me at a young age that art can be used to create positive changes internally and socially.
Q: What kind of opposition have you faced for your work?
A: Since some of my art contains nudity, there are some strangers who will think it's ok to fetishize me or send inappropriate messages.
Q: What are some future projects that you have planned?
A: I'm working on a series of illustrations inspired by afrofuturism. They have similar themes to my other work but with more focus on environments and an emphasis on safety and the sublime. I'm also a musician, and I'm in the process of learning how to film my own music video.