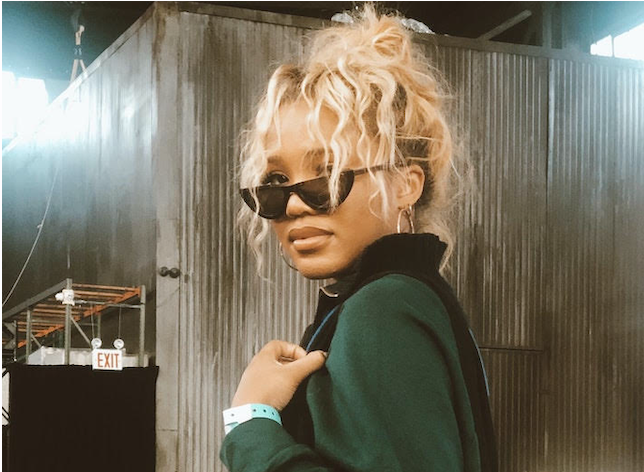 Shema Love, Artist.
NYC-based Shema Love is June's Match Studio Collaborative artist. While Shema has always been artistic, she pursued a career in nursing before becoming a professional artist. Now she does both.
Shema describes her work as "unapologetically rooted in Blackness," and she uses it as a vehicle for meaningful advocacy. Her design work and likeness has been featured by Netflix, HBO, Pyer Moss, PopSugar, Freeform on ABC, VH1, Alpha Industries, Footlocker, Jordan Brand Women's, and most recently Shema was the face and featured artist of the global campaign for Nike Air Max Day 2021.
Match Studio Collaborative: Advocacy as Art
VolunteerMatch's Match Studio Collaborative features independent artists and causes, highlighting advocacy as art. The Collaborative provides a forum for artists of color to produce work that is then reproduced in highly accessible formats to fundraise towards a meaningful cause of each featured artist's choice.
Shema Love's Match Studio artwork: Healing
Shema's Match Studio Piece
Shema's artwork speaks to self-love and the importance of healing from within, centering on the connection that before we can love each other, we must remember to love ourselves. The billboard is a loud display of this message and is representative of remembering to reach out when you need help.
She has chosen Sad Girl's Club as the recipient of funds for her original Match Studio Collaborative work. Sad Girls Club is a grassroots organization committed to showing up for Black women, Black men, and underserved communities' mental health. They create community and diminish the stigma around mental health and strive to support the millennial and Gen Z population.
Grab the gear featuring her art!
To learn more about what inspires her, why she uses art for storytelling, and what she is working on next, we asked her some questions.
Q: What inspired you to get into art?
A: I've always been creative since I could remember. I found art in everything honestly. Even though I chose to pursue a separate career in nursing, I still actively use my creativity to find solutions in healthcare. On the other hand, turning my art into a profession has really been my biggest feat to date. I started out just making art for me and my peers, but as I started to share more of my art on social media I noticed a shift in demand. It has been a rewarding challenge now after a few years of ups and downs, but that took some time. Publicizing and sharing your art with the world carries great responsibility and vulnerability.
Q: What made you want to use your art to tell a story?
A: Art innately tells a story. My art is very unapologetically rooted in Blackness — our pain, our joy, our triumphs, and everything in between — I try to include these sentiments in my art. Black creativity is unmatched, and I feel we need to be the ones telling our stories, creating our art, capitalizing on our culture. We have to know that we occupy space in numbers, and the culture doesn't move without us. I'm driven and inspired by what this world can become in my lifetime and the next. Historically this space was not made for us to flourish in, so I made it my duty to occupy it fully and without compromise—sharing my art allows me to do just that.
Q: Who has been an important mentor to you in your life?
A: It's hard to pinpoint one person but I draw a lot of my motivation from the people around me — my family, my friends, and my community. I have had the privilege of living with some very creative people, and I lean into my tribe for mentorship heavily.
Q: What kind of opposition have you faced for your work?
A: I don't really feel like I've ever faced any opposition. I think that my artwork at its core can resonate with everyone. Sometimes it may not be easy to digest and people may have opposing opinions on some of my satirical work, but I love the discussion that it evokes.
Q: What are some future projects that you have planned?
A: I have plans to produce a sensory exhibition soon. There are so many ways to experience art and I want to curate a show that is not limited to sight.
Q: Why is the Sad Girls Club a meaningful organization to you?
A: Representation, in general, is important to me, and organizations like Sad Girls Club allow girls and women to speak openly and candidly about mental health without being stigmatized. Black women are expected to endure so much and society banks on our perseverance and willingness to just push forward without acknowledging the amount of stress that weight holds. What Sad Girls Club does for the community is cast a light on real issues that [we] would typically face in the dark. I love the work that they are doing.