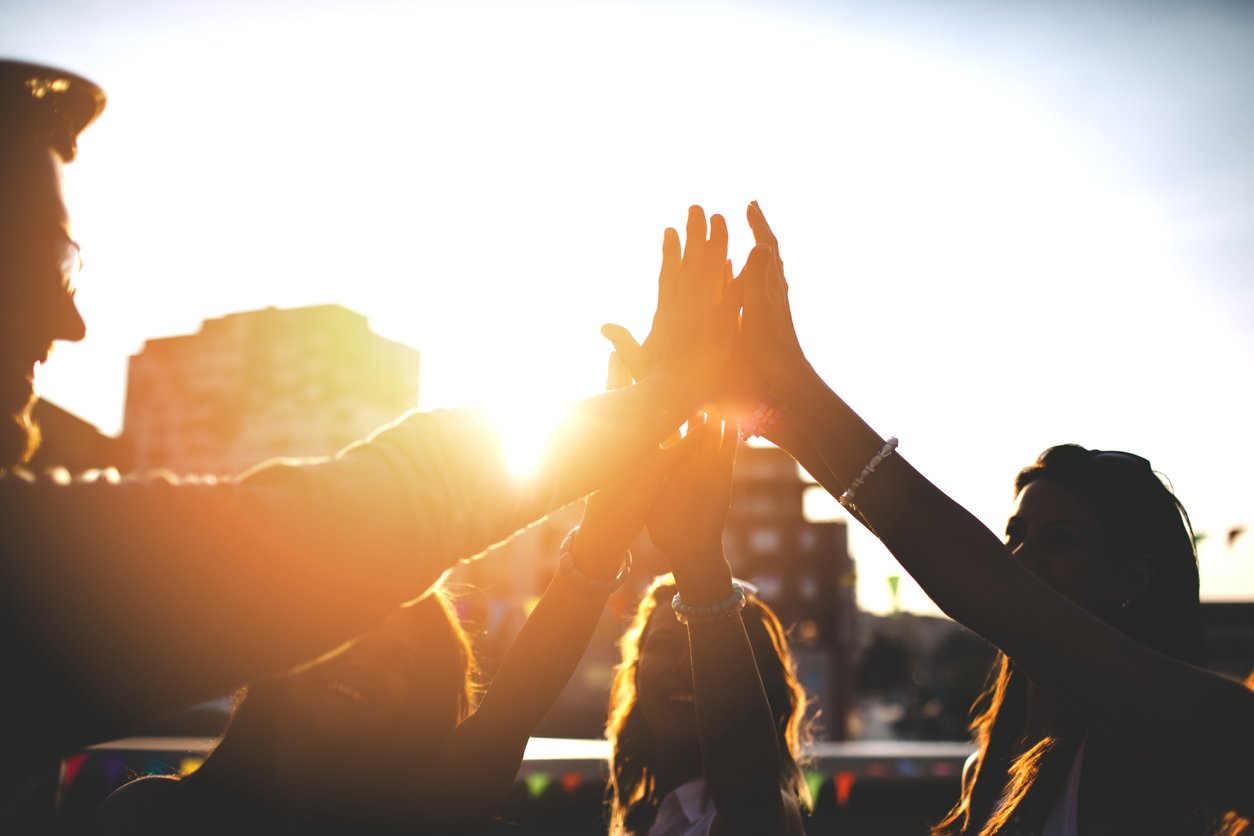 Volunteering might evoke images of soup kitchens, beach cleanups and fundraising galas. But the truth is, there are a whole lot more ways to volunteer! So many, in fact, that it can feel overwhelming when you're just getting started. VolunteerMatch alone is home to 100s of 1000s of different ways to get involved!
Some individuals volunteer their professional skills, like graphic design, software development or business operations. Others take inspiration from their hobbies and knit blankets for hospice patients, repair bikes for environmental organizations and bicycle co-ops and even play games with octopuses at the aquarium!
If you have no idea what you're looking for, this vast array of options might be paralyzing — that's what social scientists often call "the paradox of choice."
Don't let this stop you from taking action. We've broken down the process into five easy steps — from figuring out how you're able to serve to what to expect on your first day volunteering.
1. Reflect on what you want to do
If you don't know what you're looking for, it's going to be really hard to find! That's why the first step to finding your volunteer match centers around self-reflection. Before you start your search, ask yourself the following questions:
What's important to me?

What cause area (e.g., education or homelessness) do I want to support?

What's something I disagree with or feel upset by and want to change?

What would my ideal volunteer role look like?

What type of work do I find most fulfilling?

What skills do I want to use or develop?

Where do I want to volunteer?

How far can I travel?

Do I want to volunteer in person or virtually?

What's my schedule like, and how much time can I realistically commit?

Is there anything coming up that might limit or change my availability, say, a long vacation or family event?
Write down your answers to these questions and let them guide you during your search. Take note of where you're willing to be flexible and where you're not. For example, you may only want to donate your social media marketing skills, but you'd be willing to work with environmental, human rights or education organizations. Or you may only have a couple of hours a week available, but would be willing to give more time if you can volunteer remotely.
Knowing what you want to do and gain from your volunteer experience, as well as when and where you can do it, will help you quickly narrow down your choices.
2. Research what's available
Now that you have a better idea of what you're looking for, it's time to find out what volunteer opportunities are out there!
If you're already familiar with organizations in your community that support causes you care about, start there. Find out what help they need right now, how people usually volunteer with them and what you can do to contribute.
Do their volunteer needs align with what you're looking for? If yes, perfect — proceed to the next step!
If you don't have a specific organization in mind, use a site like VolunteerMatch.org to search for volunteer opportunities by location, cause area and/or skill.
This is an excellent way to connect with organizations you wouldn't otherwise know about and discover new ways to give your time. Plus, organizations are constantly posting new volunteer opportunities, so you can be sure you're responding to the real-time needs of your community!
You can also reach out to any friends, family members or colleagues who volunteer for more suggestions. Ask them where they volunteer and what they like or dislike about it. Did they have a good experience? Or a negative one?
You'll get inside knowledge about what it's like to actually volunteer with an organization, and you may end up volunteering side-by-side with your friends!
3. Reach out to the organization you want to work with
Once you find a volunteer opportunity you're interested, the next step is to reach out to the organization and let them know.
On VolunteerMatch, this means clicking the "I want to help!" button. Elsewhere, it might mean making a phone call or sending an email. When you first contact the organization, be sure to provide information about why you're interested, any relevant experience or skills you have pertinent to the role and your contact information.
It's also a good idea to inquire about the next steps in the process. For many opportunities, especially ones that require a longer commitment, there's often a thorough application and onboarding process. While this can vary widely from organization to organization, here are some of the common practices:
Volunteer application form

Orientation session

Training session(s)

Background check

Reference check

Interview

(in person or phone)

TB clearance or other medical requirements
Volunteer opportunities that provide direct service to clients (think: working with children, in hospitals or with other at-risk populations) often have more rigorous onboarding and screening practices. Remember, there's a good reason for these requirements. If you really don't want to go through these steps, look for a volunteer position with a lower barrier to getting started.
In some cases, you might not hear back from the organization right away. Many organizations don't have a full-time volunteer manager on staff or are entirely volunteer-run. And even if they do, they're often very busy managing existing volunteers, onboarding new ones and getting in touch with prospects. Thoughtfully responding to each volunteer inquiry is time-consuming. Be patient with the organization, but if you don't hear back within a week or two and are super interested, try reaching out again! It'll demonstrate strong interest, and they'll likely appreciate the reminder.
4. Make your decision
Now that you're in touch with the organization and have learned more about the opportunity, it's time to determine whether or not this position is the right one for you. Just like during a job search, an organization might be screening you, but you're also screening them!
So, what should you be looking for? It's ultimately up to you, but here are some things to think about:
Does this volunteer role match what you're looking for? Think back to what you determined you wanted to do in Step 1. If this role doesn't fit those specifications, you might want to pass. For example, if you wanted to work with puppies at an animal shelter but 99% of you work there would be administrative, you might enjoy the role.


How communicative, organized and helpful are the staff? Of course, it's important to understand capacity restraints that many service organizations face. But if staff are chronically uncommunicative and disorganized, this could present serious problems down the line, especially if you're in a role that requires a lot of support or if you're trying something new and need guidance.


Does the organization value volunteers? Do they provide ongoing training opportunities, leadership roles, etc.? These questions are likely less important if you're signing up for a short-term project or single-day of service. However, if you're hoping to find a long-term role to commit to and grow in, you'll want to make sure the organization can support this. What does it look like when an organization values its volunteers? It's less about thank you gifts and fancy luncheons and more about making sure you're involved in engaging work that meets your personal goals! This might mean providing more opportunities to learn new skills or giving you more responsibility as you grow with the organization.


Do you like the paid staff and volunteers you've met?

Your volunteer experience should be enjoyable! It might sound silly, but sometimes the right volunteer match is one where you enjoy the people you're working with. And if you don't for some reason, there's no harm in looking elsewhere.
As you're making your decision, you can always reach out to the volunteer coordinator if you think you see any red flags. They're often more than happy to answer any questions or address any concerns you may have!
5. Get started!
Last but not least, it's time to get volunteering! Once you've completed all your application and any prerequisites, schedule your first day with the volunteer coordinator.
Be professional. Make sure you show up on time. Ask for help if you need it. And finally, enjoy your experience, for you found the perfect volunteer opportunity in support of a cause you care about. What could be better?!
With a little self-reflection and preparation, you can find a way to make a difference in the world. We hope these five simple steps help clarify what it takes to find the perfect volunteer opportunity for you.
We'd love to hear where you end up volunteering, or if you have any advice to add to the list! Share your thoughts in the comments section below.