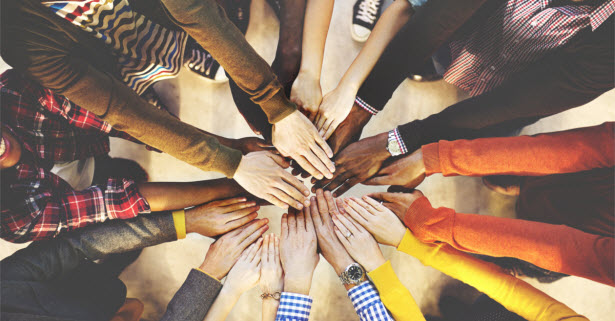 Guest post by Zach Hagopian
Organizing your own fundraising event can be stressful.
Those of you with experience organizing (or helping organize) a fundraising event such as a dinner or gala know all of the hard work and effort that go into running a successful and profitable event. You also probably know the importance of having an amazing team of committee members and volunteers to support your event, ensuring it's successful as possible.
For those of you who are new to the fundraising scene, or for those seasoned veterans looking to improve your team for your next fundraising event, I've put together a quick guide to share some of the most important roles to fill as you build a fundraising committee, as well as some tips on how to leverage your volunteers to enhance your fundraising event. Enjoy!
Key Fundraising Committee Roles
When building your fundraising committee, please note that its members can include a range of people, from volunteers to full-time employees. As long as they are willing to lend an adequate amount of time and have the skills necessary, they should be a welcome asset to your team.
1. The Fundraiser — the fundraiser is the backbone of your fundraising team. This member's responsibility is to ensure your event raises as much money for your cause as possible. Ideally, all your committee members will exhibit qualities of "the fundraiser", but it is important to classify one or multiple of your members to focus solely on this role. Typically, the founders of the event will take on this role as it is quite significant and touches each role mentioned in this post.

As a key member of your fundraising team, the fundraiser will focus on the following:
Telling the story of how your team and work are connected to your organization's mission

Engaging donors and sponsors in order to increase proceeds and lower costs

Acknowledge gifts made by and maintain relationships with donors
Most importantly, the fundraiser will constantly ask the question, "Will this decision help us raise more money for our cause?". If the decision does not lead to an increase in proceeds or lower costs, the fundraiser will not advocate for the proposed idea.
2. Operations & Logistics— Another crucial member of your fundraising team, the operations and logistics manager, will focus on some of the fine points of the event, such as how the day or night will play out, and who will be responsible for carrying out key activities during the event.
Specifically, the operations and logistics member should:
Manage and prepare checkpoints and timelines

Contact vendors (i.e. food, beverage, supplies, decorations, etc.)

Coordinate volunteers on the night of the event

Setup the event venue
3. Marketing— Your fundraising team would not be complete without a member in charge of marketing. This team member's focus is to spread the word about your cause and promote your fundraising event by any means necessary.
Your marketing member or team will focus on:
Creating your fundraiser's marketing plan; this can be as simple as setting a goal for how many people you would like to reach via social media

Developing marketing materials: Facebook & Twitter posts, invitations, posters, etc.

Managing public relations; reaching out to local news organizations (i.e. newspapers, blogs, tv stations) to help generate buzz around your upcoming fundraiser

Encouraging word-of-mouth referrals for your event to increase demand to attend
4. Finance — The final role in your fundraising team is reserved for your finance manager. This person /team will create a budget for your fundraiser to ensure that costs are low enough and proceeds are high enough to generate a profit that can be donated to your cause.
Functions of the finance role include:
Managing your fundraising budget

Itemizing and monitoring receipts

Securing payment for gifts and donations from attendees

Paying vendors

Submitting final paperwork and tax information for your fundraiser
Building a strong fundraising team focused on these four roles ensures you're well-prepared to run a successful and stress-free fundraiser!
Quick Tips on Engaging Your Volunteers
While your fundraising committee is crucial to the success of your fundraising event, so too is your larger group of staff and volunteers. In general, the team at Accelevents has seen the most success when encouraging volunteers to help with the following:
Event Promotion—Many times, the key to selling out your event and increasing attendance is by spreading the word as effectively as possible. Here, you'll want as many people as possible talking about your event in order to tap into the largest possible network of attendees. By utilizing the collective networks of your volunteer team, your event will have a much larger footprint, both online and in person. This increased reach will lead to a higher attendance at your event. The passion of your volunteers will be contagious, leading to higher engagement and attendance.
Ticket Sales—Just as your volunteers can help with event promotion, so too can they help drive ticket sales amongst their audiences and personal networks. When selling tickets to our own fundraising event, we typically start by having volunteers invite their networks first. This method will lead to early sales that build momentum and buzz! Fear of missing out ("FOMO") will gradually build, and hopefully, your event will sell out!
Sponsorship—Selling sponsorship to your fundraisingevent is one of the best strategies to scale the size and overall proceeds for your cause. While we suggest having a committee member with sales experience lead your sponsorship outreach efforts, having your volunteers try to bring in sponsorship dollars can only help your cause. Everyone has their own personal connections which can hopefully lead to more sponsorship, so we highly recommend encouraging your volunteers to help on this front. Having an experienced pro bono or skilled sales volunteer lead your sponsorship team would be even more effective.
Event Set-up—When the day or night of your fundraising event has finally come, it will be all hands on deck to set-up! If you're lucky, you'll be able to use your venue earlier than the day of your event, buying your team some much needed set-up time. Here, we recommend leveraging your committee and volunteers to assist in venue set-up. Having a larger team will help you set up faster, assuming your logistics team is doing a good job!
Fundraiser Assistance & Checkout—

Finally, volunteers can be extremely helpful in assisting with your on-premise fundraising, which can include auctions, raffles, fund-a-need programs, or pure donations. We'd recommend recruiting some of your volunteers to assist during these fundraising endeavors, but also to engage volunteers in helping with checkout for silent auctions and raffles.

One note here, when working with volunteers that handle the checkout process for your fundraiser, we suggest closely vetting your team ensure that your proceeds are in good hands. Starting with full-time employees from your organization or a volunteer who's been vetted is a perfect strategy here.
We hope you found this guide to be helpful as your prepare for your next event. A great team can help launch your fundraiser to an even more successful level — good luck!
Author Bio: Zach Hagopian is the co-founder and COO of Accelevents, a mobile fundraising platform that enhances silent auctions and raffles through online and text-message bidding. An active member in the Boston fundraising scene, Zach focuses on improving traditional fundraising methods and increasing fundraiser proceeds.