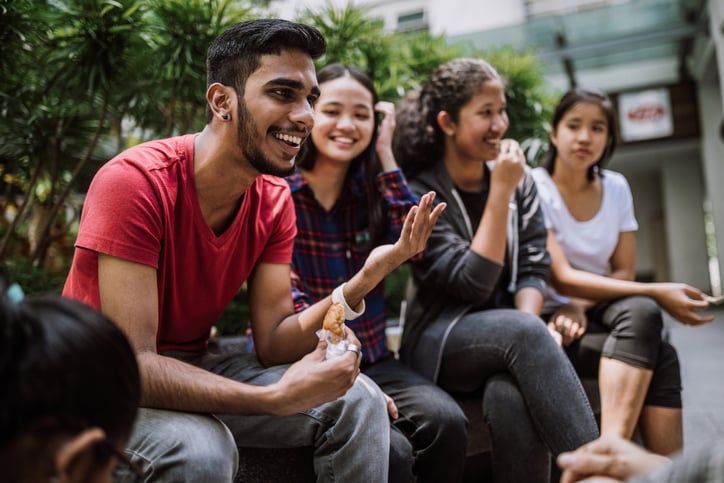 Written by Jeff Gordy, NeonCRM
While a lot of nonprofits have highly developed strategies in place for engaging donors, many haven't put as much thought into how to engage their volunteers.
However, volunteers are key constituents in an organization. They contribute something as equally valuable as monetary donations — they contribute their time, skills, and passion.
Chances are, your organization wouldn't be able to do the work you do (or be as successful at furthering your cause) without help from volunteers.
As such, engaging your volunteers really deserves the same amount of thought and effort as engaging your donors. If you haven't been actively engaging your volunteers, it can be difficult to figure out how to best approach new strategies.
Don't worry; we're about to eliminate some of that uncertainty! In this post we'll cover four techniques to boost volunteer engagement, including:
1. Record Volunteer Data In Your CRM.
As most great fundraisers know, raising the most from your donors takes getting to know them.
And exactly the same goes for your volunteers. In order to effectively engage them, you're going to want to get to know them as well as you possibly can!
Think about this: when you understand your volunteers better, you'll be able to approach them with information and opportunities that are most compelling to them.
So how do you get to know a base of dozens, hundreds, or even thousands of volunteers?
You're going to need a robust set of data!
The easiest way to track volunteer data is to simply enter this information into your nonprofit customer relationship management (CRM) system. In doing so, you'll be able to see how your volunteers are connected to other constituents in your base.
While the data fields in CRMs usually apply more directly to donors, tracking these data fields can also be helpful for gaining insights into your volunteers. For example, you could track:
Biographical and contact information.

Communication preferences.

Previous volunteer history and giving habits.

Familial, corporate, and other personal connections.

Interests, skills, and affinities.
Plus, many nonprofit CRMs also include volunteer management capabilities that allow you to track volunteer-specific data and more easily manage volunteer efforts.
Entering volunteer data into your CRM can help you:
Keep volunteer data organized,
Get to know your volunteers better to more effectively target your engagement strategies,

And streamline your operations.
It's a win-win-win!
The bottom line: Recording volunteer data in your CRM will help your organization gain more insight into your volunteers and more effectively manage volunteer projects and outreach.
Bonus: For more information, check out these blog resources on "How to Evaluate Your Volunteers' Work" and "5 Key Data Points You Should Know About Your Volunteers."
2. Create Volunteer-Specific Outreach Strategies.
Now that you've utilized your CRM to gain more insight into your volunteers, it's time to take it a step further and apply these insights to your outreach.
Considering that your volunteers have a different relationship with your organization than your donors, you're going to want to craft volunteer-specific outreach strategies.
Notice how I used the plural — "strategies" — and not the singular "strategy"?
Just as with your donor outreach, you won't get very far with engaging your volunteers if your organization takes a one-size-fits-all approach.
As you know from researching, your volunteers have different interests, skills, and capabilities. They're not all going to want to get involved in your organization in the same way.
That's why you should craft individualized outreach strategies that keep both their position as volunteers and their personal preferences in mind.
For starters, your organization will probably want to create a profile for volunteers on VolunteerMatch and on your website. That way, anyone who's interested in volunteering with your organization can easily access all of the information they need in an easy-to-find place.
As far as crafting individualized outreach strategies goes, the way you choose to segment your volunteer base will depend on what makes the most sense for your organization.
Here are a couple of general tips that can help you make your communications more engaging:
Directly address volunteers on social media. Volunteers can be more responsive to social media engagement than donors. Because they're generally interested more in your cause than in your organization, many volunteers are compelled to get involved after they read the stories nonprofits share on social media.

Don't push for donations. Always remember that you're talking to your volunteers, not your donors. And while they might not be giving you money, they're still going out of their way to provide your organization with something incredibly valuable. Don't push for more by asking for donations; it can be off-putting. Many of your volunteers will naturally donate after becoming more invested in your organization.

The more personal and volunteer-specific you can make your volunteer outreach, the more effective it will be at engaging your volunteers.
The bottom line: To successfully engage your volunteers, your organization should craft multiple volunteer-centric outreach strategies that take into account the preferences of your prospective volunteers.
3. Offer A Diverse Set Of Volunteer Opportunities.
Individualized volunteer outreach strategies and diverse volunteer opportunities go hand-in-hand.
Your organization won't be able to develop individualized outreach strategies if you're simply providing your volunteers with similar opportunities over and over again.
In order to cater your outreach to your volunteers' various preferences, you're going to want to diversify your volunteer opportunities as much as possible.
The more types of opportunities you provide, the more likely you are to appeal to your volunteers' diverse and varied skills and interests. And the more appealing your opportunities seem, the more likely your volunteers are to engage.
The opportunities you offer will be highly dependent on your organization and your needs. However, think outside-of-the-box to pinpoint where you might be able to provide your volunteers with unique opportunities.
Your organization likely relies on volunteers to help you with your fundraising events. But say your organization was looking to recruit more millennial volunteers, for example. You might want to think about how you could offer opportunities to use new technologies geared toward millennials within your organization.
No matter which opportunities you offer, just make sure they're clearly defined
It can be helpful to create volunteer roles that tell supporters:
Exactly what tasks are expected of them,

Where and when they're supposed to complete those tasks,

And how those tasks will further your organization's cause and goals.
Similar to your donors, when your volunteers can directly equate their actions with concrete results, they'll be much more likely to engage with your organization.
The bottom line: Offering a diverse set of volunteer opportunities will provide the greatest chance of more volunteers engaging with your organization.
Bonus: Once you've decided on the types of volunteer opportunities you want to provide, learn how to optimize your volunteer position descriptions for success.
4. Host A Volunteer Appreciation Event.
One of the keys to keeping all of your constituents engaged is to say thanks and say it often.
After all, although they might never admit it, people are much more likely to help those that make them feel valued.
An appreciated volunteer is going to regard your organization much more warmly and, thus, is going to keep volunteering with you for longer.
While your organization can certainly get away with thanking your volunteers through letters or over the phone, you can take your acknowledgments above and beyond by hosting an appreciation event.
And making your volunteers feel appreciated isn't the only benefit of hosting this type of event. In fact, there are many benefits:
They allow you to cultivate a community. Volunteers often feel more connected to the cause than the organization itself. That being said, many are looking to volunteer to become part of a community of people who are interested in furthering those causes. Volunteer appreciation events provide the perfect opportunity to do so!
They can help you get to know your volunteers even better. By talking to your volunteers in person at an appreciation event, you'll be able to learn things about them that you would never be able to learn through your outreach. These insights can help you hone your volunteer outreach even more, so you can see even higher engagement levels.
They provide a great incentive. Your organization can leverage appreciation events to incentivize further volunteering with your organization. For example, you can host an event every time a volunteer has worked a certain number of hours with your organization. Imagine how much more engagement you'll see when the promise of a celebration is involved!
Keep in mind that appreciation events aren't fundraising events. The main goal is not to raise money; it's to show your volunteers how much you value their contributions!
To determine which type of event will be most appealing to your volunteers, you should go back and consult your nonprofit CRM. The causes and opportunities that interest your volunteers can be a good indicator of which events they might enjoy, too.
The bottom line: Hosting volunteer opportunities provides your organization with a wealth of benefits that lead to a more engaged volunteer base.
Bonus: You know how to say thanks, but what do you say in other scenarios? Check out these tips on what not to say to angry volunteer (and what you should say instead).
—–
For more on constituent engagement, check out NeonCRM's website.
What techniques has your organization used to engage volunteers in the past? Let us know in the comments!
Author Bio: Jeff Gordy is the Co-Founder and CEO of Z2 Systems, Inc., the makers of NeonCRM. Jeff has been working with his team for the last 12 years on building the optimal fundraising, CRM database, and marketing solutions for nonprofits.